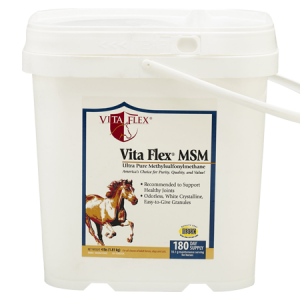 This formula is made with ultra-pure methylsulfonylmethane (MSM)—a form of organic sulfur that occurs in all living organisms and is often used to help support healthy joints in dogs, cats and horses! The white crystalline granules are odorless and easy to feed to your neighing neighbor. A four-pound bucket holds a 180-day supply, providing your horse continued support!
Enclosed scoop holds 10.1 grams
Horses: Give one scoop twice daily for the first 7 days. Give one scoop thereafter for daily maintenance, or as directed by veterinarian.
Dogs and Cats: Give recommended level twice daily for the first 7 days, reduce to once daily for maintenance. Give dry or dissolve in lukewarm water first.
Up to 45 lbs. body weight: 1.4g (1/4 tsp)
45 to 90 lbs. body weight: 2.8g (1/2 tsp)
Above 90 lbs. body weight: 4.2g (3/4 tsp)
Store in a cool, dry place. Reseal after each use.
| UPC | Weight(lbs) | Weight(oz) | SKU | Model # | Pricing |
| --- | --- | --- | --- | --- | --- |
| 758900002098 | 4 | | | | |