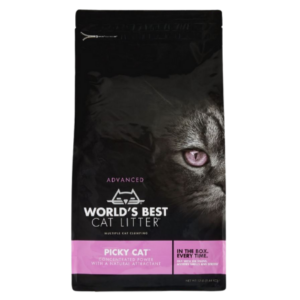 Help encourage your cat to go where she' supposed to with this Picky Cat Advanced Litter by World' Best. Made with sustainable corn and natural plant fibers, this kitty litter works to naturally attract your cat to her litter box. Not only is it made with natural ingredients, but it' also 99% dust free, so you and your pet can breathe easy. The litter locks in odor, so your home can stay free of stink, while the quick-clumping action creates smaller and tighter clumps for easy scooping. Best of all, this advanced formula is great for multi-cat households since it's suitable for cats from all life stages and life experiences' including kittens, senior cats, adopted cats and of course picky cats too!
Powerful multi-cat litter delivers long-lasting odor control to help keep your home smelling fresh.
A quick clumping formula that's easy to scoop with no scraping necessary!
Flushable and safe for most septic and sewer systems for easy litter box maintenance.
Completely lightweight and 99% dust free, which means less mess and cleaner air.
100% free from harmful chemicals and artificial perfumes, so it's safe for pets, people and the planet!
Transition Instructions
When introducing a new litter, make sure to make the switch gradually. Star with only one-third of World's Best Cat Litter added to your current litter. Once your cat is more familiar with it, gradually increase the ratio until you have completely transitioned to World's Best Cat Litter.
Simply pour 2 to 3 inches of World's Best Cat Litter™ into a clean, dry litter box. For the best results, do NOT mix with a non-clumping litter.
After your cat has used the litter box, simply scoop the clump. For good hygiene, you should remove all clumps and solid waste daily.
Maintain 2 to 3 inches of cat litter in the litter box at all time for long lasting odor control.
Additional Instructions
Not for internal use. Not meant for use as compost or as a traction aid.
Store in a cool, dry place. Product filled by weight; some settling may occur.
| UPC | Weight(lbs) | Weight(oz) | SKU | Model # | Pricing |
| --- | --- | --- | --- | --- | --- |
| 840673101839 | 12 | 0 | | | |
| 840673101846 | 24 | 0 | | | |