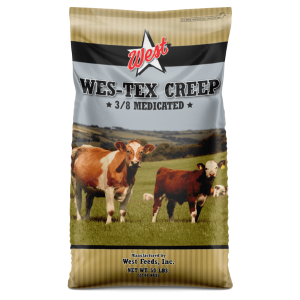 This pellet creep feed has 14% protein and is medicated with Bovatec®, an ionophore, which increases feed utilization and is also a coccidiostat for the prevention of coccidiosis.
Crude Protein (Min)14.00%
*Lasalocid30 G/TON
Crude Fat (Min)3.00%
Crude Fiber (Max)17.00%
Calcium (Min)2.50%
Calcium (Max)3.50%
Salt (Min)0.50%
Salt (Max)1.50%
Phosphorus (Min)0.10%
Selenium (Min)0.10 PPM
Vitamin A (Min)
Feed at a rate to provide not less than 100 mg (6 2/3 pounds) nor more than 300 mg. (20 pounds) of Lasalocid per head per day. Feed in conjunction with good quality hay. Always provide a source of clean, freshwater.
Warning: The safety of Lasalocid in approved species has not been established. Do not allow horses or other equines access to feed containing Lasalocid as ingestion can be fatal.
Warning: A withdrawal period has not been established for this product in pre-ruminant cattle. Do not feed to calves to be processed for veal.
*Active Drug Ingredients: Lasalocid (as Lasalocid Sodium) – To boost feed efficiency and gain in cattle without compromising feed intake.
| UPC | Weight(lbs) | Weight(oz) | SKU | Model # | Pricing |
| --- | --- | --- | --- | --- | --- |
| | 50 | | | | |