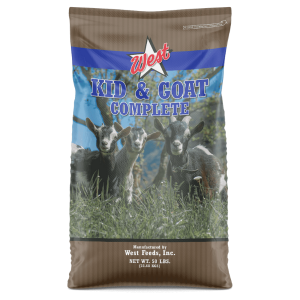 A medicated kid and goat pellet feed with 16% protein. This is a complete feed for all breeds of goats and is fully fortified with essential vitamins and minerals.
It is medicated with Decoquinate for the prevention of coccidiosis and contains ammonium chloride for the prevention of urinary calculi.
*Crude Protein (Min)16.00%
*Decoquinate22.70 G/TON
Crude Fat (Min)2.00%
Crude Fiber (Max)17.00%
Calcium (Min)1.00%
Calcium (Max)2.00%
Phosphorus (Min)0.20%
Salt (Min)0.50%
Salt (Max)1.50%
Copper (Min)20.00 PPM
Copper (Max)40.00 PPM
Selenium (Min)0.30 PPM
Selenium (Min)4,500 IU/LB
Feed at a rate of 2 lbs. feed per 100 lbs. bodyweight to provide 22.7mg. per 100 lbs. (0.5 mg/kg) bodyweight per day. Adequate roughage should be made available at all times. Provide clean, fresh water free choice at all times. Never feed molded or insect-infested feeds.
Warning: This feed contains added copper. Do not feed to sheep or lambs nor allow them to have any contact with this feed. Do not feed to goats producing milk for food. This tag supersedes all guarantees printed on the feed bag.
*Active Drug Ingredients: Decoquinate – For the prevention of coccidosis in young goats caused by Eimeria christenseni and Eimeria ninekohlykimovse. Feed at least 28 days during the period of exposure or when experience indicates that coccidiosis is likely to be a hazard.
*Crude Protein (Min) – This includes not more than 1% equivalent protein from non-protein nitrogen sources.
| UPC | Weight(lbs) | Weight(oz) | SKU | Model # | Pricing |
| --- | --- | --- | --- | --- | --- |
| | 50 | | | | |