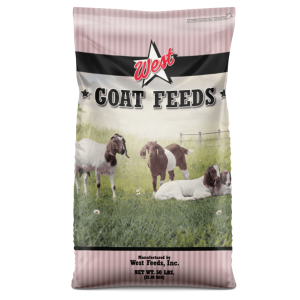 A 3/16" pellet goat feed with 16% protein that was formulated in conjunction with Mr. James Kyle, one of the most highly regarded goat raisers in Texas. It is a highly digestible goat feed with a very high level of energy.
James Kyle Custom Goat is grain-based instead of being a high fiber ration. It contains elevated levels of vitamins and Zinpro Availa 4® organic minerals in amino acid form.
This feed is medicated with Monensin to control coccidiosis and increase feed utilization. It has four yeast strains for improved rumen function, elevated levels of ammonium chloride to prevent urinary calculi, and diatomaceous earth as a flow agent.
*Crude Protein (Min)16%
*Monensin20.00 G/TON
Crude Fat (Min)3.00%
Crude Fiber (Max)10.00%
Calcium (Min)0.80%
Phosphorus (Min)0.35%
Salt (Min)0.50%
Salt (Max)1.50%
Copper (Min)30 PPM
Copper (Max)40 PPM
Selenium (Min)0.30 PPM
Vitamin A (Min)10,000 IU/LB
Feed as the sole ration to developing goats. Feed at the rate of 1.0 to 2.0 pounds per head per day, depending on size and body condition. Provide plenty of clean, fresh water at all times. Never feed molded or insect-infested feed. Expiration Date: 30 days from the date of manufacture.
Warning: Do not allow horses or other equines access to formulations containing Monensin. Ingestion of Monensin by equines has been fatal. Monensin has been fatal in cattle and could be fatal in goats. Monensin medicated feed is intended for use in cattle or goats. Consumption by unapproved species may result in toxic reactions.
Warning: Limitations for use: Feed complete feed (90% dry matter basis) continuously as the sole ration. Do not feed to goats producing milk for human consumption.
*Active Drug Ingredients: Monensin – For the prevention of coccidiosis caused by Eimeria crandallis, Eimeria christenseni, and Eimeria ninakohlyakimovae.
*Crude Protein (Min) – This includes not more than 2.00% equivalent crude protein from non-protein nitrogen.
| UPC | Weight(lbs) | Weight(oz) | SKU | Model # | Pricing |
| --- | --- | --- | --- | --- | --- |
| | 50 | | | | |