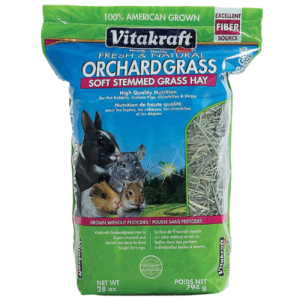 Natural, 100% American-grown orchard grass hay, packaged into clean, easy-to-feed compressed slices. Vitakraft's Fresh & Natural Orchard Grass Hay comes from hand-selected premium orchard grass harvested at peak maturity for the best nutrient content and softest stem quality. Hays like orchard grass are essential parts of a small herbivore's daily diet, helping to maintain good digestion and strong, healthy teeth.
Crude Protein (min) 10%
Crude Fat (min) 1%
Crude Fiber (min) 40%
Crude Fiber (max) 45%
Moisture (max) 14%
Orchard Grass Hay can be fed freely to most small animals. As a general guideline, feed one (1) thick slice per animal, per day. Adjust quantity to match consumption/need; for example, rabbits should have access to unlimited amounts of a high fiber grass hay. Discard and replace soiled hay. Fresh, clean water should be available at all times. Seal and store any unused portions in cool, dark place.
| UPC | Weight(lbs) | Weight(oz) | SKU | Model # | Pricing |
| --- | --- | --- | --- | --- | --- |
| 87535360731 | 1.75 | | | | |