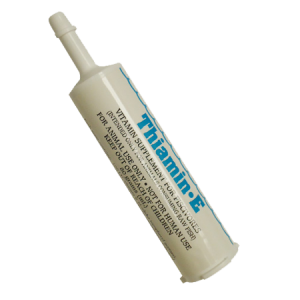 ThiaminE Paste is a blend of vitamins for marine mammals, birds and other aquatic species whose diet consists mainly of raw fish. This supplement contains no vitamin A and should be fed with whole fish containing livers, which are a good source of vitamin A. The paste format makes it easy to mix with chopped fish or insert into whole fish prior to feeding. To administer, insert the ThiaminE Paste Cartridge into a Genesis Repeating Dispenser.
Contains natural vitamin E.
No added vitamin A in product.
Paste product – Allows for flexibility in mixing with chopped fish or into whole fish prior to feeding.
Accurate delivery system – More precise administration as compared to tablet supplementation with GENESIS automatic dispenser.
Per 1 ml click.
Vitamin E not less than
Thiamin not less than
100 IU
50 mg
Administer Thiamin•E at the rate of 1 ml per kg raw fish.

Administer either into mouth or gills of whole fish or mix into sliced or chopped fish prior to feeding.
Provides 100 IU vitamin E and 50 mg thiamin per kilogram.

Higher doses may be administered as required.
Each cartridge can fortify up to 80 kilograms of fish.
Storage Conditions
Store at room temperature or under refrigeration. Avoid excessive heat. Use within 1 year of manufacturing date.
| UPC | Weight(lbs) | Weight(oz) | SKU | Model # | Pricing |
| --- | --- | --- | --- | --- | --- |
| | .2 | | 0010112 | 10112 | |