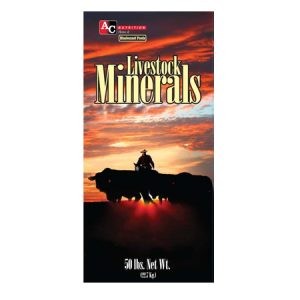 Tech-Master Complete Mineral research shows increased conception rates and increased weaning weights, contains patented amino acid chelated trace minerals, kelp seaweed meal, probiotics & prebiotics, and provides calcium & phosphorus plus the vitamins and trace minerals needed to complement feeds, pasture and hay forage.
Calcium Min 12.00 %
Manganese Min 7,000 ppm
Calcium Max 14.00 %
Copper Min 2,000 ppm
Phosphorus Min 8.00 %
Cobalt Min 35 ppm
Salt Min 10.00 % Iodine
Min 300 ppm Salt Max 12.00 %
Selenium Min 25 ppm
Magnesium Min 2.00 %
Vitamin A Min 270,000 IU/lb
Potassium Min 1.25 %
Vitamin D Min 27,000 IU/lb
Zinc Min 6,300 ppm
Vitamin E Min 540 IU/lb
Offer free-choice continuously in a mineral feeder to animals on pasture. Cattle should consume 2 to 4 ounces daily. Goats and deer should consume 0.5 to 1 oz daily. Offer clean, fresh water and roughage at all times.
CAUTION: This product contains added copper. Do Not Use in feeds for Sheep. Follow Label Directions. The addition of higher levels of selenium to feeds containing this product is not permitted.
| UPC | Weight(lbs) | Weight(oz) | SKU | Model # | Pricing |
| --- | --- | --- | --- | --- | --- |
| 053352050223 | 50 | | | | |