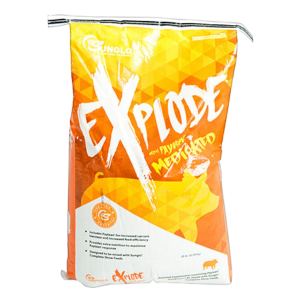 Sunglo Explode is a 23% protein crumble supplement containing Paylean® designed for improved feed efficiency and increase carcass leanness in finishing swine.
Sunglo® ExplodeTM contains Paylean®, an ingredient for increased rate of weight gain, improved feed efficiency and increased carcass leanness in finishing swine, weighing not less than 150 lb., fed a complete ration containing at least 16% crude protein for the last 45 to 90 lb. of gain prior to slaughter.
Fully-fortified feed supplement for show pigs containing Paylean®
Paylean® has been shown to increase carcass leanness and feed efficiency in market hogs
Explode™ provides high levels of protein and lysine to help maximize the Paylean® response
Protein: 23.00%
Fat: 4.00%
Fiber: 4.00%
Lysine: 1.60%
Medication: Paylean
Form: Pellet
Always provide access to fresh, clean water.
Use extra care when handling, loading and transporting pigs that have been fed Paylean. It is recommended to remove Explode from the feed 12 hours before transporting.
Check weight gains at set time intervals and adjust daily feeding rate as needed until target weight is reached.
Always transition slowly from one ration to another to help avoid digestive upset.
| UPC | Weight(lbs) | Weight(oz) | SKU | Model # | Pricing |
| --- | --- | --- | --- | --- | --- |
| 716535001367 | 25 | | | | |