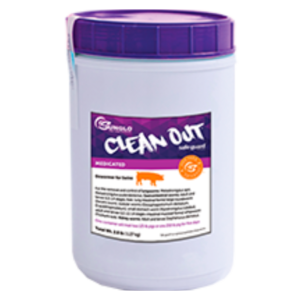 Medicated feed-thru dewormer for swine.
Deworm your pig without giving shots!
Feed thru, pelleted dewormer medicated with Safe-Guard® for swine
For the removal and control of lungworms: Metastrongylus apri, Metastrongylus pudendotectus. Gastrointestinal worms: Adult and larvae (L3, L4 stages, liver, lung intestinal forms) large roundworm (Ascaris suum), nodular worms (Oesophagostomum dentatum, O.quadrispinulatum); small stomach worm (Hyostrongylus rubidus), adult and larvae (L2, L3, L4 stages-intestinal mucosal forms) whipworm (Trichuris suis). Kidney worms: Adult and larvae Stephanurus dentatus.
| | |
| --- | --- |
| Protein | 18.00% |
| Fat | 3.00% |
| Fiber | 10.00% |
| Lysine | 0.90% |
| Medication | Safe Guard Medicated dewormer for swine |
| Form | Pellet |
Feed one scoop (included in the container) per 50 lbs of pig per day for five days.
One container will treat one 250 lbs. pig for five days, or two 125 lbs. pigs for five days.
There is no withdrawal period for CleanOut™. Be sure to consult your veterinarian for assistance in the diagnosis, treatment, and control of parasites.
| UPC | Weight(lbs) | Weight(oz) | SKU | Model # | Pricing |
| --- | --- | --- | --- | --- | --- |
| 716535001411 | 8.00 | | | | |