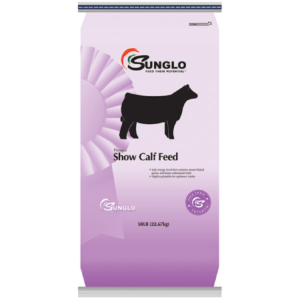 Sunglo® Show Calf Grower is the right choice to help your cattle grow, develop and stay on feed. Advanced protein, amino acid blends, and the time-tested Sunglo vitamin and mineral pack ensure your cattle are getting the best.
Mid-West Formula:
Protein: 12.50%
Fat: 3.00%
Fiber: 15.00%
Medication: Lasalocid
Form: Textured
South-West Formula:
Protein: 12.00%
Fat: 3.00%
Fiber: 16.00%
Medication: Lasalocid
Form: Textured
West Coast Formula:
Protein: 13.50%
Fat: 3.50%
Fiber: 16.00%
Medication: Lasalocid
Form: Textured
Florida Formula:
Protein: 12.00%
Fat: 3.00%
Fiber: 16.00%
Medication: NON-MED
Form: Textured
Starting Calves on Grower:
At the start of the feeding period, fill calves on hay and gradually introduce Sunglo® Show Calf Grower over time the first day, divided into two equal feedings.
Once calves are on full feed, Sunglo® Show Calf Grower should be hand fed in equal feedings twice a day.
Feed Calf Grower from weaning up to approximately 900 lbs, depending on your calf. Then it's time to think about switching to either Sunglo® Calf Developer or Sunglo® Calf Finisher, depending on their energy and fiber requirements.
Transition slowly from one ration to another to minimize risk of digestive upsets.
On Full Feed:
Feed should be completely consumed before next feeding. Do not allow feed to build up in bunk and get moldy.
Remove any feed not consumed and reduce the amount of feed in proportion to the amount left over.
Similarly, increase the amount of feed when feed is completely consumed before the next feeding, but limit this increase to one pound or less per feeding.
Feeding Tips:
Slowing the Rate of Gain
If calves are gaining too rapidly, it may be necessary to use one of the following options:
Decrease the daily allotment of Sunglo® Show Calf Feed by 2-4 lbs.,
OR
Add Sunglo® Full Tank™ and feed at a rate of 1-5 lbs. per head per day to meet desired weight gain.
Difficult Finishing:
Some large-frame calves may require longer finishing periods or increased energy density in the finishing ration to achieve the desired finish.
Going Off Feed (Burnout):
This feed has been carefully formulated to promote consumption. However, should your calf experience a drop in feed consumption of more than 10% of targeted daily feed intake for more than two days, blend in Sunglo® 2 the Fullest with Cob™ at a rate up to 1/2 of daily intake to enhance appetite. A more dramatic drop in feed consumption may require going back to the beginning and re-initiating your calf to feed. In either case, return to Sunglo® Show Calf Grower ration should be done gradually. Should your calf go completely off feed, consult your veterinarian or Sunglo® Show Feed specialist.
| UPC | Weight(lbs) | Weight(oz) | SKU | Model # | Pricing |
| --- | --- | --- | --- | --- | --- |
| | 50 | | | | |