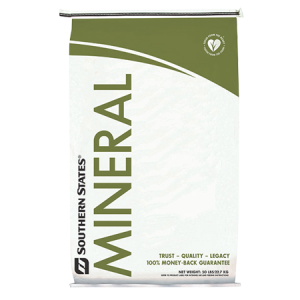 Mineral supplementation is the key to profitability in cattle production. Southern States Traditions Weathershed 2:1 Beef Mineral complements grazing cattle's diet with macro and micro minerals they need for healthy, steady growth and weight gain, including selenium, calcium and phosphorous. As mineral supplement rates in livestock feed increase, sickness and disease rates may decrease, and your profits show the difference.
Weatherized Mineral.
2:1 calcium to phosphorus ratio.
4% Magnesium.
High fortification of copper, zinc, manganese and cobalt.
Other Feed Additives available.
Available in 50-lb bag.
MANGANESE (MIN)
3,500 ppm
VITAMIN A (MIN)
200,000 IU/lb
VITAMIN D (MIN)
26,000 IU/lb
VITAMIN E (MIN)
130 IU/lb
Disclaimer:
 Product availability, promotions and pricing vary by location. These products may be purchased at your 
local store
. Images are representative only. Color and size may vary.
Provide to cattle 2-4 weeks prior to grazing pastures. Place mineral in a feeder protected from the weather accessible to cattle at all times. Feed at a rate to provide not more than 3 mg/head/day of supplemental selenium. Mineral should be moved closer to source of water or areas where cattle congregate to increase consumption or farther away to decrease consumption. Use as the sole source of salt. Provide free access to clean, fresh water at all times.
CAUTION: Do not feed to sheep.
NOTE: Do not permit intake of supplemental selenium to exceed 0.3 ppm in the total ration. Beef cattle can be fed 3 mg/head/day of supplemental selenium from feed supplements for limit feeding.
For your safety, and that of your animals, always read and follow label directions and caution statements.
| UPC | Weight(lbs) | Weight(oz) | SKU | Model # | Pricing |
| --- | --- | --- | --- | --- | --- |
| 722304472702 | 50 | | | | |