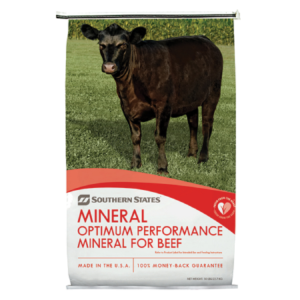 Southern States Genetic Expression Weathershed Beef Breeder Hi-Mag is one of the keys to profitability in cattle production. This free choice mineral complements a grazing cattle's diet with every major mineral they need for healthy, steady growth and weight gain even in stressed pasture conditions or grazing tetany prone pastures. This formula contains chelated trace minerals, hydroxy trace minerals (zinc, manganese, copper) cobalt, organic selenium and yeast cultures for optimum health and reproduction. Another feature of this mineral, it contains Weathershed to help reduce moisture problems.
Weatherized mineral.
Chelated trace minerals.
2,000 ppm of copper.
Selenium Yeast.
10% magnesium.
Yeast compounds.
Hydroxy form of Copper, Zinc and Manganese trace  minerals.
Feed Additive options available.
Available in 50-lb bag. 
MANGANESE (MIN)
3,400 ppm
VITAMIN A (MIN)
300,000 IU/lb
VITAMIN D (MIN)
30,000 IU/lb
VITAMIN E (MIN)
300 IU/lb
Provide to cattle 2-4 weeks prior to grazing pastures. Place mineral in a feeder protected from the weather accessible to cattle at all times. Feed at a rate to provide not more than 3 mg/head/day of supplemental selenium. Mineral should be moved closer to source of water or areas where cattle congregate to increase consumption or farther away to decrease consumption. Use as the sole source of salt. Provide free access to clean, fresh water at all times.
CAUTION: Do not feed to sheep.
NOTE: Do not permit intake of supplemental selenium to exceed 0.3 ppm in the total ration. Beef cattle can be fed 3 mg/head/day of supplemental selenium from feed supplements for limit feeding.
| UPC | Weight(lbs) | Weight(oz) | SKU | Model # | Pricing |
| --- | --- | --- | --- | --- | --- |
| 722304472412 | 50 | | | | |