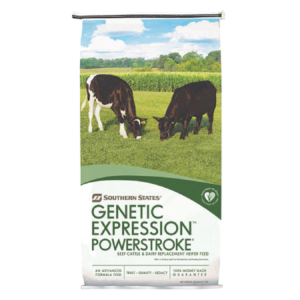 Southern States Genetic Expression 16% PowerStroke provides all life stages of cattle all they need to maintain excellent and efficient daily growth. Introduce Southern States Genetic Expression 16% PowerStroke slowly into a forage based diet. This feed can enhance the diets of your cattle. The 16% protein content makes it an excellent supplemental support for late gestation and early lactation in brood cows and supports body condition score for breeding. Your growing herd will get great support from Southern States Genetic Expression PowerStroke feeds. Feed Additive options available.
16% Crude Protein.
Pelleted form.
Selenium Yeast.
Chelated trace minerals.
Yeast compounds.
Hydroxy form of Copper, Zinc and Manganese trace minerals.
Other Feed Additives available.
Available in 50-lb bag. 
CRUDE PROTEIN (MIN)
16.00 %
CRUDE FIBER (MAX)
15.00 %
ACID DETERGENT FIBER (MAX)
21.00 %
VITAMIN A (MIN)
7,200 IU/lb
Feed continuously along with hay, silage or pasture. For cattle not acclimated, feed small quantities and gradually increase level of feeding over a period of several days. Adequate roughage must be  available at all times. Provide clean, fresh water at all times. Follow Southern States Mineral Program as recommended.
CAUTION: Do not feed to sheep.
NOTE: Do not permit intake of supplemental selenium to exceed 0.3 ppm in the total ration. Beef cattle can be fed 3 mg/head/day of supplemental selenium from feed supplements for limit feeding.
CAUTION: Use only as directed. For cattle only.
For your safety, and that of your animals, always read and follow label directions and caution statements.
| UPC | Weight(lbs) | Weight(oz) | SKU | Model # | Pricing |
| --- | --- | --- | --- | --- | --- |
| 722304469962 | 50 | | | | |