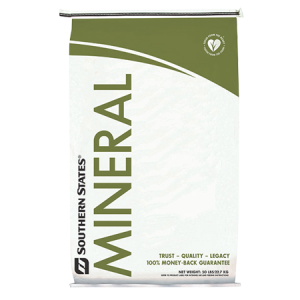 Southern States Cattleman's Beef Mineral is a base mineral that meets NRC requirements for grazing cattle. Excellent choice for mixing with grains to balance silage/grain feeding programs or fed as a free choice mineral.
Dual purpose mineral.
High selenium content.
Provides supplemental levels of Vitamins A, D, & E.
Supplies NRC levels of micro-minerals.
Available in 50-lb bag. 
MANGANESE (MIN)
1,350 ppm
VITAMIN A (MIN)
125,000 IU/lb
VITAMIN D (MIN)
15,000 IU/lb
VITAMIN E (MIN)
75.00 IU/lb
Provide to cattle 2-4 weeks prior to grazing pastures. Place mineral in a feeder protected from the weather accessible to cattle at all times. Feed at a rate to provide not more than 3 mg/head/day of supplemental selenium. Mineral should be moved closer to source of water or areas where cattle congregate to increase consumption or farther away to decrease consumption. Use as the sole source of salt. Provide free access to clean, fresh water at all times.
CAUTION: Do not feed to sheep.
NOTE: Do not permit intake of supplemental selenium to exceed 0.3 ppm in the total ration. Beef cattle can be fed 3 mg/head/day of supplemental selenium from feed supplements for limit feeding.
For your safety, and that of your animals, always read and follow label directions and caution statements.
| UPC | Weight(lbs) | Weight(oz) | SKU | Model # | Pricing |
| --- | --- | --- | --- | --- | --- |
| 722304472818 | 50 | | | | |