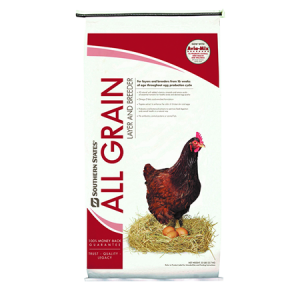 Southern States All Grain Layer & Breeder Pellet is a complete vegetarian feed that is ideal for egg layers and breeders 16 weeks of age and up. The nutrient dense, all-natural formulation results in eggs produced with higher levels of vitamins, minerals, and omega 3 content, and superior egg shell and yolk quality. The added pro-biotic optimizes feed digestion and overall heath in a natural way. Southern States All Grain Layer & Breeder is free of antibiotics, animal proteins and animal fats.
Crude Protein(min.)16.00%
Lysine(min.)0.70%
Methionine(min.)0.30%
Crude Fat(min.)3.50%
Crude Fiber(max.)5.00%
Calcium (Ca) (min.) 3.80%(max.)4.80%
Phosphorus (P)(min.)0.50%
Salt (NaCl) (min.) 0.25%(max.)0.75%
Manganese (Mn)(min.)160 ppm
Vitamin A(min.)3,500 IU/lb
Vitamin D(min.)1,200 IU/lb
Vitamin E(min.)35 IU/lb
Omega-3(min.)0.40%
Feed ALL GRAIN LAYER AND BREEDER free choice to brown and white egg layers and breeders when hens reach 16 weeks of age.
Provide fresh feed, water and oyster shells to hens on a daily basis.
| UPC | Weight(lbs) | Weight(oz) | SKU | Model # | Pricing |
| --- | --- | --- | --- | --- | --- |
| 722304462024 | 50 | | | | |