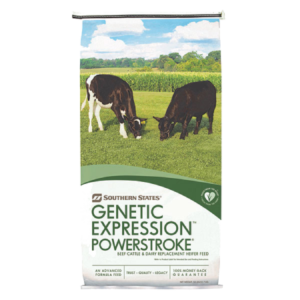 Southern States 16% PowerStroke with (BVT) Medicated gives growing beef cattle (350 lbs. and above) all they need for excellent and efficient daily growth with a wide spectrum of vitamins and minerals and the additive Bovatec, for increased rate of weight gain. Introduce 16% PowerStroke with (BVT) Medicated slowly into a hay, pasture or silage diet, based on the feeding rate per head, per day. This pelleted creep feed can also augment the diets of growing beef or dairy replacement heifers, and its 16% crude protein supports special needs of your cattle. Your growing herd will get great support from Southern States PowerStroke feeds.
16% Crude Protein.
Pelleted form.
Selenium Yeast.
Chelated trace minerals.
Yeast compounds.
Hydroxy form of Copper, Zinc and Manganese trace minerals.
Other Feed Additives available.
Available in 50-lb bag. 
CRUDE PROTEIN (MIN)
16.00 %
CRUDE FIBER (MAX)
15.00 %
ACID DETERGENT FIBER (MAX)
21.00 %
VITAMIN A (MIN)
7,200 IU/lb
Disclaimer:
 Product availability, promotions and pricing vary by location. These products may be purchased at your 
local store
. Images are representative only. Color and size may vary.
Feed continuously along with hay, silage or pasture. For cattle not acclimated, feed small quantities and gradually increase level of feeding over a period of several days. Adequate roughage must be  available at all times. Provide clean, fresh water at all times. Follow Southern States Mineral Program as recommended.
CAUTION: Do not feed to sheep.
NOTE: Do not permit intake of supplemental selenium to exceed 0.3 ppm in the total ration. Beef cattle can be fed 3 mg/head/day of supplemental selenium from feed supplements for limit feeding.
CAUTION: Use only as directed. For cattle only.
For your safety, and that of your animals, always read and follow label directions and caution statements.
| UPC | Weight(lbs) | Weight(oz) | SKU | Model # | Pricing |
| --- | --- | --- | --- | --- | --- |
| 722304469986 | 50 | | | | |