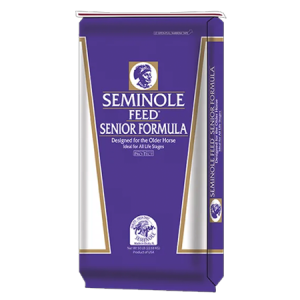 Dust-free and highly palatable, Seminole Senior Formula™ is a super-premium textured feed scientifically formulated to meet the special needs of the older horse. Fortified with antioxidants, vitamins, and chelated trace minerals, and contains balanced Omega 3 & 6 Fatty Acids from Ultra Bloom®, ground flaxseed, and soy oil. This feed is an easy-to-chew, low-starch feed containing high levels of digestible fibers essential for gut health, and is also ideal for horses under stress or with chronic respiratory allergies, ROA (heaves), COPD or EIPH (bleeders). Whether feeding the growing foal, equine athlete or the elder horse, the flexibility of Seminole Senior Formula™ makes it the ideal choice for all life stages of your equine partner.
WHY SEMINOLE FEED® SENIOR FORMULA?
Seminole Feed Senior Formula is scientifically formulated to meet the special needs of older horses
and is ideal for all life stages. This low starch formula is dust-free and easy-to-chew
Fixed Formula
Contains Ultra Bloom , Ground Flax Seed & Soybean Oil
Yucca schidigera
Antioxidants
Yeast Culture
Biotin, Methionine & Zinc
High Caloric & Nutrient Content
Lysine
| | |
| --- | --- |
| Crude Protein (min) | 14% |
| Crude Fat (min) | 7% |
| Crude Fiber (max) | 16% |
| Starch (avg) | 12% |
| Sugar (avg) | 7% |
| NSC% (avg) ** | 19% |
| Calcium (Ca) (max) | 1.00% |
| Phosphorus (P) % (min) | 0.50% |
| Potassium (K) % (min) | 1.10% |
| Lysine (min) | 0.70% |
| Copper (Cu) ppm | 50 |
| Selenium (Se) ppm | 0.40 |
| Zinc (Zn) ppm | 120 |
| Vitamin A (IU/lb) | 6000 |
| Vitamin D3 (IU/lb) | 300 |
| Vitamin E (IU/lb) | 100 |
| Biotin (mg/lb) | 0.50 mg/lb |
| Chelated Minerals | Yes |
| Yeast Culture | Yes |
| Stabilized Rice Bran | Yes |
| Yucca schidigera | Yes |
| Herbal Formula | No |
| Weight Per Quart | 1.6 |
Seminole Feed® Senior Formula is a low starch, premium quality, complete feed, scientifically designed for aged horses. Senior Formula can be fed with forage or as the sole ration if your aged horse is unable to readily consume hay, pasture or other long-stemmed forage. Start the
feeding program using the Daily Feeding Guide for the type of roughage fed and class of horse. After observing and/or weighing the horse for
a period of time, increase or decrease the daily feeding rate to obtain the desired body condition or body weight.
If your Senior horse has lost teeth or has dental problems and can no longer chew or swallow hay, this feed can be fed at a higher level, usually
up to 2% of body weight per day. This feed can be soaked in water and fed as a mash. It is recommended that if your horse cannot consume hay
or grass that an alternative form of long-stem fiber be fed. Hay cubes or chopped hays can be soaked in water and fed to these horses. When
the amount of feed exceeds 1.5% of the horse's body weight, it should be divided and fed in 3 or more feedings per day.
Do not feed Senior Formula on a free choice basis. Feed at regular times with two or more equal feedings per day. Make all feed changes gradually, over a 7 – 10 day period. Increases in feeding rate should not exceed 1 pound per day for an individual horse. Delay feeding a horse
that has just been exercised or is exhibiting pain, fever or diarrhea. Senior Formula weighs approximately 1.6 pound per dry US quart. Feed hay and/or equivalent pasture at the rate of 1 to 2 pounds per 100 pounds of body weight daily. Provide a free-choice horse mineral such as Seminole Grass Balancer 16:8 Mineral or Alfa Balancer 12:12 Mineral on a continuous basis. Provide clean, fresh water at all times.
| UPC | Weight(lbs) | Weight(oz) | SKU | Model # | Pricing |
| --- | --- | --- | --- | --- | --- |
| 446379 | 40 | | | | |