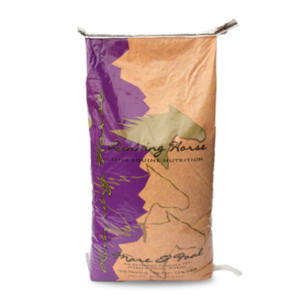 Running Horse Mare & Foal is an extruded supplement formulated to the nutritional requirements of mares from late gestation through lactation. Young growing horses also get all the vital nutrition necessary for proper development. With quality protein sources and high levels of vegetable fat, Running Horse Mare & Foal helps a mare maximize milk production without a loss in body condition. Soluble Amino Acids (L-Lysine, DL-Methionine), Mineral Chelates (Zinc – Methionine, Manganese Methionine, Copper Lysine), and Vitamin Supplements give your young horse the tools to maximize its genetic potential.
16.0%Crude Protein (min)
0.70%Lysine (min)
9.00%Crude Fat (min)
13.0%Crude Fiber (max)
0.85%Calcium (CA) (min)
1.02%Calcium (CA) (max)
0.70%Phosphorous (P) (min)
50 ppmCopper (min)
250 ppmZinc (min)
4,000 IU/IBVitamin A (min)
Daily amount per 100 lbs of body weight based on activity level.  Adult weights are calculated on 800 to 1,000 lbs.
| | |
| --- | --- |
| Breeding Mares………………… | 0.40 to 0.70 lb. |
| Early Gestation…………………. | 0.25 to 0.50 lb. |
| Late Gestation…………………. | 0.40 to 0.60 lb. |
| Lactation……………………….. | 0.40 to 0.70 lb. |
Growing Horses
| | |
| --- | --- |
| Weanling……………………….. | 0.40 to 0.60 lb. |
| Yearling…………………………. | 0.40 to 0.60 lb. |
| UPC | Weight(lbs) | Weight(oz) | SKU | Model # | Pricing |
| --- | --- | --- | --- | --- | --- |
| 756637296612 | 40 | | | | |