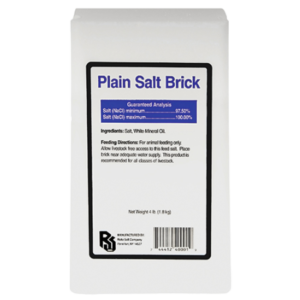 Roto Salt Plain White Salt Brick is recommended for all classes of livestock.
Clean, evaporated salt; 97.5% pure.
Compressed into durable, weather resistant 4 lb. bricks for free choice feeding.
Specially designed for easy placement in RotoSalt brick holders.
Provides an affordable, efficient and convenient way to introduce salt into a large animal's diet.
Available in 4-lb brick. 
Salt (NaCI) minimum ……………… 97.5%
Salt (NaCI) maximim  ……………… 100%
Place near adequate water supply.  Allow livestock free access to this feed salt.
| UPC | Weight(lbs) | Weight(oz) | SKU | Model # | Pricing |
| --- | --- | --- | --- | --- | --- |
| 744412400019 | 4 | | | | 2.50 |