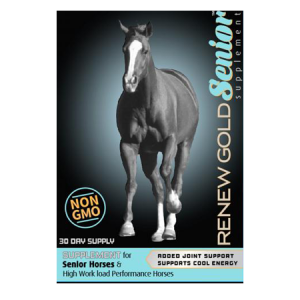 Renew Gold Senior Equine Supplement is for senior and heavy use performance horses 
Renew Gold Senior is an extruded pellet product that is designed to provide a broad spectrum of nutritional support to horses that experience common issues associated with the effects of aging, high stress or prior injury.
Yeast Culture                                              9100 mg/lb
Coconut Oil                                                 5900 mg/lb
L-Lysine                                                       2720 mg/lb
D-Glucosamine Hydrochloride 99%     2270 mg/lb
Ascorbyl-2-Polyphosphate                     1400 mg/lb
Chondroitin Sulfate                                   360 mg/lb
Renew Gold Senior Support should be fed with a well-balanced diet founded on quality roughage and minimal additional feed concentrates. Grain based concentrates should be limited to two pounds per feeding or less. If grass hays or pasture are the primary sources of roughage, depending on the quality of that grass, an additional source of alfalfa cubes or long hay (several pounds morning and night) may enhance roughage digestion.
Older horses that are currently on a Complete Feed due to mouth and teeth issues can continue with that program, and Renew Gold Senior Support can simply be added to the current program. The soft extruded pellets of this product easily transform to a meal form in the mouth and require very little chewing to do so.
| | |
| --- | --- |
| Less than one year of age | Original Renew Gold™ Recommended |
| One to three years of age | 0.5 to 1 |
| Mature Horse (low work load) | 1 LB per day |
| Mature Horse (moderate to heavy work load) | 1 1/2 LB per day |
| Senior Horse (high work load) | 1.5-2 LB per day |
As with any change to your horses feeding program, introduce
Renew Gold SENIOR™gradually. Beginning with a 1/4 daily rate,
increase to the full desired rate over a seven day period. Always
provide your horse with a plentiful source of clean water and salt.
| UPC | Weight(lbs) | Weight(oz) | SKU | Model # | Pricing |
| --- | --- | --- | --- | --- | --- |
| 1030167 | 30 | | | | |