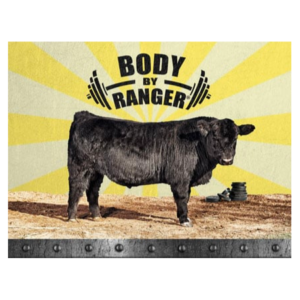 Ranger®  Limiter Technology gets you the results of hand feeding without the hassle.
The proprietary technology works with your existing forage and encourages cattle to eat smaller, more frequent meals without overdoing it.
Designed to be self-fed, rations with Ranger®  Limiter Technology are ideal for cattlemen who want their cattle to look good and hit target gains, but lack the labor or time to hand feed. Helping you get more pounds per animal per acre and the right kind of gain is what we call a "Body by Ranger®."
No matter the goal, Ranger®  Limiter gets them ready
Ranger® Limiter Technology comes in multiple product forms and works in many scenarios, so long as cattle have continuous access to a quality forage (grass or hay). Whether developing bulls or heifers, creep feeding calves, preconditioning stockers, or winter feeding your herd, Ranger® Limiter helps get your cattle ready to meet your development goals.
Ranger® Limiter Technology is the convenient way to feed cattle the way you want them to look, while delivering predictable, efficient performance.
26% (Blender – higher inclusion rate) & 32% (Concentrate – lower inclusion rate) crude protein pellet designed to be mixed with grain and most grain by-products/commodities
Complete vitamin and mineral pack
| UPC | Weight(lbs) | Weight(oz) | SKU | Model # | Pricing |
| --- | --- | --- | --- | --- | --- |
| 722304109318 | | | | | |