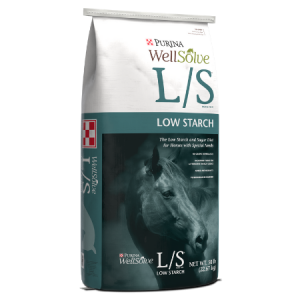 The low starch and sugar diet for horses with special needs. Your veterinarian may recommend that you feed a low starch and sugar diet to your horse. Our goal in creating WellSolve L/S Horse Feed was to thoroughly research the area of equine carbohydrate metabolism and provide the best possible diet we could offer for horses with special needs. WellSolve L/S Horse Feed is the result of years of research and development, including controlled studies at the Purina Animal Nutrition Center and extensive field testing.
We researched many aspects, including the amounts and types of fiber, the ideal feed form, the unique vitamin and mineral requirements of horses on low starch and sugar diets, as well as energy requirements. We adjusted protein-to-energy ratios and added high quality essential amino acids as well as antioxidants and essential fatty acids. It's an enormous balancing act that requires the consideration of more than just the sugar and starch levels. However, the result is worth it – a nutritionally balanced, highly palatable diet that veterinarians and horse owners can use with confidence.
| | |
| --- | --- |
| Protein |  12.00% MIN |
| Fat |  5.50% MIN |
| Fiber |  23.00% MAX |
| Lysine |  0.70% MIN |
| Calcium |  0.65% MIN |
| Calcium |  1.15% MAX |
| Phosphorus |  0.50% MIN |
| Magnesium |  0.50% MIN |
| Zinc |  220.00 ppm MIN |
| Copper |  65.00 ppm MIN |
| Selenium |  0.60 ppm MIN |
| Selenium |  0.61 ppm MAX |
| Vitamin E |  225.00 IU/lb MIN |
| Vitamin A |  3500.00 IU/lb MIN |
| Biotin |  3.6 mg/lb MIN |
| Starch |  7.0% MAX |
| Sugars |  4.0% MAX |
Caution
Use only as directed. Follow instructions on label or bag.
For horses sensitive to dietary carbohydrates, please consult with a veterinarian or nutritionist for a recommended diet.
These recommendations are a starting point that may need to be adjusted up or down to accommodate different horses' metabolisms, management practices, and forage quality and quantity. For further information regarding the use of this product.
Best Results
Feed at regular times.
Divide total daily feeding into at least two servings with three to four daily servings preferred.
Do not feed over 0.6 pounds per 100 pounds body weight of WellSolve L/S® horse feed diet in one serving.
Do not feed free-choice.
Feed horse in a natural position from troughs placed at normal head height or lower.
Always feed a minimum of 1 to 1.5 pounds per 100 pounds body weight of good quality, clean hay or equivalent pasture.
Provide salt and plenty of fresh, clean water at all times.
Maintain an effective control program for internal parasites.
Be sure that horses are free of dental problems.
Horses in intense work should be fed a diet designed for horses with higher caloric requirements such as Ultium® Competition horse formula or Strategy® GX horse feed.
This product is not recommended for young growing horses, under 2 years of age.
A product such as Ultium® Growth horse formula, Omolene #300® or Strategy® GX horse feeds should be creep fed separately to foals of lactating mares being fed a WellSolve L/S® horse feed diet.
Changing To
Any feed changes should be made gradually over a period of 7 to 10 days.
Mix the new feed with the old, gradually increasing the amount of the new feed while decreasing an equal amount of the old.
Changes in the rate of feeding should not exceed one pound per day for each horse.
Caution
Store in a dry, well-ventilated area protected from rodents and insects. Do not feed moldy or insect-infested feed to animals as it may cause illness, performance loss or death.
| UPC | Weight(lbs) | Weight(oz) | SKU | Model # | Pricing |
| --- | --- | --- | --- | --- | --- |
| 883576004555 | 50 | | | | |