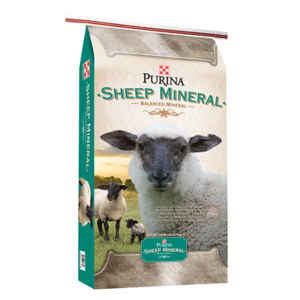 Purina Sheep Mineral is designed to be fed free-choice to the breeding herd and growing lambs, including ewes and ewes with lambs as a sole source of mineral and salt. This economical and palatable meal mineral contains added selenium and provides the provides the proper 2:1 calcium to phosphorus ratio to help prevent urinary calculi in sheep.
Phosphorus (P) MIN 6.00 %
Zinc (Zn) MIN 1250.00 PPM
Vitamin A MIN 100,000 IU/LB
Vitamin D3 MIN 10,000 IU/LB
Magnesium (Mg) MIN 2.00 %
Manganese (Mn) MIN 500.00 PPM
Selenium (Se) MIN 11.50 PPM
Selenium (Se) MAX 13.80 PPM
Feed this product free-choice to sheep receiving rations composed largely of grass hay or to sheep grazing range or grass pastures. Optimum intake is 0.25 to 0.75 ounces per head daily.
Store in a dry, well-ventilated area protected from rodents and insects. Do not feed moldy or insect-infested feed to animals as it may cause illness, performance loss or death. This product was made in a feed manufacturing facility that does not handle or store products containing animal proteins prohibited in ruminant feed.
USE ONLY AS DIRECTED
| UPC | Weight(lbs) | Weight(oz) | SKU | Model # | Pricing |
| --- | --- | --- | --- | --- | --- |
| 748936002315 | 50 | | | | 39.99 |