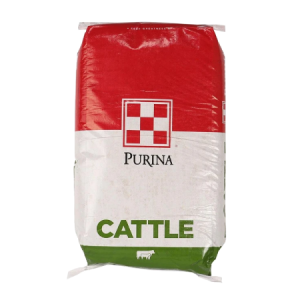 Ranch Hand Beef Builder is a complete feed for starter-grower-finisher feed lot cattle.
Crude Protein (Min)…12.00% Crude Fat (Min)…1.50% Crude Fiber (Max)…26.00% Calcium (Ca) (Min)…0.40% Calcium (Ca) (Max)…0.90% Phosphorus (P) (Min)…0.30% Salt (NaCl) (Min)…0.13% Salt (NaCl) (Max)…0.63% Potassium (K) (Min)…0.50% Vitamin A (Min)…2000 IU/LB
Full feed to growing cattle as the sole ration. IMPORTANT FOLLOW THESE MANAGEMENT PRACTICES: 1. When making a ration change, allow 7-10 days for animals to adjust to the new ration. 2. Provide a source of fresh, clean water at all times. 3. Keep a constant supply of complete feed available to cattle. Do not allow fine material to accumulate in feeders. 4. Provide adequate bunk space for each animal. Bunks should be protected and well managed to prevent feed from becoming wet and molding. 5. When fed from a self-feeder, adjust feeder to minimize quantity of feed accumulating in trough. 6. Cattle should be vaccinated against enterotoxemia. 7. Consult your veterinarian for recommended health program for your local area. This includes internal and external parasite control. 8. Provide plain salt and mineral free choice. In groups of cattle there are certain animals who experience chronic bloat, or other digestive disturbances, and consequently, are poor performers. In addition, feed consumption in excess of 3-3.5% of body weight, severe weather changes resulting in erratic feed consumption, and poorly managed feeding practices can increase the incidence of bloat in all cattle. If bloating does occur, the above management practices should be reviewed.
| UPC | Weight(lbs) | Weight(oz) | SKU | Model # | Pricing |
| --- | --- | --- | --- | --- | --- |
| | 50 | | | | |