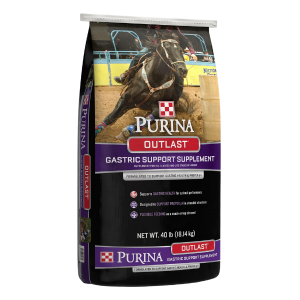 Purina Outlast Gastric Support Supplement  is formulated to support gastric health and proper pH. It is estimated that up to 90 percent of active horses experience gastric discomfort, a­ffecting health, attitude and performance. Common activities including stall confinement, exercise, transportation, weaning and few environments such as events and shows are known to cause stress and gastric discomfort. Purina Outlast Gastric Support Supplement was developed by our Ph.D. Equine Nutritionists to support a healthy gastric environment.
| | |
| --- | --- |
| Crude Protein |  13.00 % MIN |
| Crude Fat |  1.10 % MIN |
| Crude Fiber |  17.00 % MAX |
| Acid Detergent Fiber (ADF) |  21.00 % MAX |
| Neutral Detergent Fiber (NDF) |  35.00 % MAX |
| Calcium (Ca) |  4.00 % MIN |
| Calcium (Ca) |  5.00 % MAX |
| Phosphorus (P) |  0.45% MIN |
Follow the feeding instructions / label directions. Use only as directed.
This product is designed to be top-dressed on your horse's regular feed ration and/or fed as a snack within one hour prior to engaging in a potentially stressful event such as exercising, traveling, confinement, etc.
The feeding rate for both the top-dress and the snack is 20 grams per 100 to 125 lbs. body weight. For example, a 1,000 to 1,250 lb. horse would receive 200 grams of the supplement per feeding. This feeding rate is equivalent to 1.25 cups (10 ounces with a dry-good measuring cup). See chart for specific recommendations.
Typical feeding rate is 3 to 4 times per day — top-dressed with each meal and a snack 30 to 60 minutes prior to a stressful event. Do not feed more than 6 times per day at the recommended rates for your horse's weight.
Meals of ULTIUM Gastric Care Horse Formula or RACE READY GT Race Horse Formula include OUTLAST Gastric Support Supplement, so each meal will count as one OUTLAST supplement top-dress/snack. Changes in feeding should be made gradually.
For best results, feed OUTLAST supplement along with an appropriate PURINA Horse Feed for your horse's lifestyle, fed at recommended rates. Provide adequate forage (minimum of 1.2% of body weight) in the overall diet to maintain normal digestive function in the horse.
| UPC | Weight(lbs) | Weight(oz) | SKU | Model # | Pricing |
| --- | --- | --- | --- | --- | --- |
| 804273051642 | 40 | | | | |