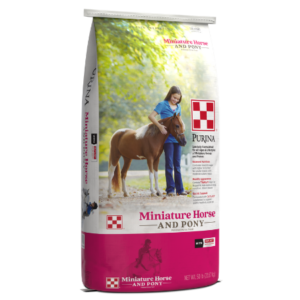 Purina® Miniature Horse and Pony horse feed is specifically formulated to meet the unique needs of miniature horses and ponies who tend to be more metabolically efficient than large horses, but still require the nutrition necessary for growth, gestation, lactation, breeding and competition.
Added beet pulp provides an excellent source of fermentable fiber for slow release energy, concentrate feed designed to be fed with hay or pasture, controlled sugar and starch may help reduce the risk of adverse health effects caused by the management error of overfeeding. Highly digestible ingredients provide nutrient density and support proper digestion, highly palatable premium formulation made with the highest-quality ingredients, protein with a desirable amino acid profile to support strong muscle growth, shiny coat and healthy hooves, and nutritionally balanced.
| | |
| --- | --- |
| Crude Protein |  13.50% MIN |
| Lysine |  0.80% MIN |
| Crude Fat |  4.50% MIN |
| Crude Fiber |  18.00% MAX |
| Calcium |  0.80% MIN |
| Calcium |  1.30% MAX |
| Phosphorus |  0.65% MIN |
| Copper |  75.00 ppm MIN |
| Zinc |  270.00 ppm MIN |
| Selenium |  0.60 ppm MIN |
| Vitamin A |  6,000.00 IU/lb MIN |
| Vitamin E |  125.00 IU/lb MIN |
Feed at regular times. Do not feed more than 0.5 lbs per 100 lbs of body weight in one serving. Divide total daily feeding into at least two servings with three daily servings preferred. Be sure to weigh your feed using a scale. A small scale can be purchased in the fishing department of many sporting goods stores.
Feed horse in a natural position from troughs placed at normal head height or lower. Do NOT feed free-choice (all the horse wants).
Reduce and /or delay feeding a horse that is hot, excited or showing pain, fever or diarrhea. Consult your veterinarian if any problems arise. Prevent rapid eating.
Always feed a minimum of 1.0 to 1.2 lbs per 100 lbs of body weight of good quality, clean hay or pasture. Inadequate amounts or poor quality hay may lead to colic and other digestive disturbances.
Have plenty of fresh, clean water available at all times, except immediately after intense physical exercise.
Provide your horse with access to salt.
Maintain a regular deworming program, have the horse's teeth examined annually and consult your veterinarian on a regular basis.
IF CHANGING TO PURINA® MINIATURE HORSE AND PONY HORSE FEED:
Make the feed change gradually over a period of 7 to 10 days.
Mix the new feed with the old, gradually increasing the amount of the new feed while decreasing an equal amount of the old.
Changes in the rate of feeding should not exceed 0.1 lb per 100 lbs of body weight per day for each horse.
CAUTION:
Always follow label directions. Feeding added selenium resulting in total diet levels in excess of 0.3 ppm is prohibited.
Store in a dry, well-ventilated area protected from rodents and insects.
Do not feed moldy or insect-infested feed to animals as it may cause illness or death.
Please consult the tag sewn onto the bag for complete feeding instructions.
| UPC | Weight(lbs) | Weight(oz) | SKU | Model # | Pricing |
| --- | --- | --- | --- | --- | --- |
| 804273030470 | 50 | | | | |