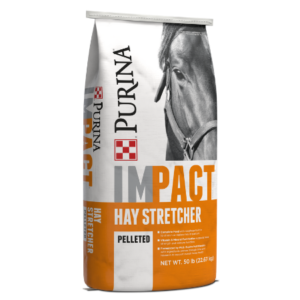 When hay quality is inconsistent, your horse's nutrition doesn't have to suffer. Provide your horse with a consistent and easy-to-use premium forage replacement with IMPACT HAY STRETCHER Horse Feed.
With over 100 years of expertise and research in equine nutrition and a dedicated team of Ph.D. Equine Nutritionists and Equine Veterinarians, nobody knows more about horse nutrition than Purina. Purina IMPACT is formulated to deliver premium nutrition with only high-quality ingredients that have been proven through years of feedings to support overall horse health and performance.
Balanced Nutrition
Meets your horse's nutrient requirements when fed as directed
Complete Feed
High-quality roughage built in to stretch or replace hay or pasture
Formulated by Ph.D. Equine Nutritionists
Ingredients proven through time and research to support overall horse health
Quality Ingredients
Highly digestible and naturally palatable
Vitamin & Mineral Fortification
Supports bone strength and immune function
| | |
| --- | --- |
| Crude Protein |  11.50% MIN |
| Crude Fat |  2.00% MIN |
| Crude Fiber |  26.00% MAX |
| Acid Detergent Fiber (ADF) |  29.00% MAX |
| Neutral Detergent Fiber (NDF) |  49.00% MAX |
| Calcium (Ca) |   0.70% MIN |
| Calcium (Ca) |  1.20% MAX |
| Phosphorus (P) |  0.45% MIN |
| Copper (Cu) |   25.00 ppm MIN |
| Selenium (Se) |  0.20 ppm MIN |
| Zinc (Zn) |  95.00 ppm MIN |
| Vitamin A |  2,000 IU/lb MIN |
IMPACT HAY STRETCHER can serve as a substitute for forage – hay or pasture. One pound of IMPACT HAY STRETCHER can replace 1 to 2 lbs of hay consumed by your horse. If using as a complete feed to replace all forage and feed in your horse's diet, recommended amounts of IMPACT HAY STRETCHER are shown below in pounds.
PURINA recommends that you periodically weigh the feed to ensure that your horse is receiving the proper amount in weight as well as in volume. Start with the amount shown for your horse's body weight. After observing your horse for a period of time, you may want to increase or decrease the daily feeding of IMPACT HAY STRETCHER by up to 10% to keep your horse in the desired condition.
Caution
Use only as directed. Follow instructions on label or bag.

Store in a dry, well-ventilated area protected from rodents and insects. Do not feed moldy or insect-infested feed to animals as it may cause illness, performance loss or death. USE ONLY AS DIRECTED
| UPC | Weight(lbs) | Weight(oz) | SKU | Model # | Pricing |
| --- | --- | --- | --- | --- | --- |
| 804273051727 | 50 | | | | |