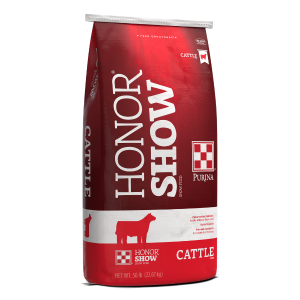 Purina Honor Show Chow Grand 4-T-Fyer concentrate is a blended supplement that can be mixed with corn, oats, barley and beet pulp to provide a high quality ration for show cattle. This flexible feed allows you to adjust the grain level to fit your goals and needs for breeding cattle, steers and feeder calves.
Crude Protein MIN 32.00 %
Crude Fat MIN 7.00 %
Crude Fiber MAX 27.50 %
Calcium (Ca) MIN 2.50 %
Calcium (Ca) MAX 3.50 %
Phosphorus (P) MIN 0.63 %
Vitamin A MIN 15000 IU/LB
Potassium MIN 1.20 %
Salt (NaCl) MIN 1.75 %
Salt (NaCl) MAX 2.25 %
Description
Feed at a 20% inclusion rate/per head/per day plus grain and forage.
Caution
Store in a dry, well-ventilated area protected from rodents and insects. Do not feed moldy or insect-infested feed to animals as it may cause illness, performance loss or death. This product was made in a feed manufacturing facility that does not handle or store products containing animal proteins prohibited in ruminant feed.
Winning Matrix
Efficient production requires a thorough understanding and application of the fundamental principles of good husbandry and sanitation. The Purina Winning Philosophy program will help you step into the spotlight.
1.GOOD BREEDING: Practice a sound genetic program of selection and culling. Visit a professional breeder for more information. Know the feeling when you have that perfect animal that has the best potential to win.
2.GOOD FEEDING: Proper nutrition for different needs and lifestyles starts with Honor® Show Chow® products. Feed at regular times at least two times daily,with three daily feedings preferred. You can't become a Grand Champion without the best nutrition.
3.SOUND MANAGEMENT: A clean environment minimizes stress and improves average daily gains. Clean stalls,remove debris and provide fresh water daily. The daily attention to detail is the difference between a Grand Champion and lower placement.
4.PREVENTIVE HEALTH: Establish an effective health program with your local veterinarian. A sick animal never makes it to the top.
These are the building blocks of the Honor® Show Chow® program and the keys to successful production. Practical application of these basic principles will not only enhance your animal's growth and development, but also increase its potential of winning on the show circuit.
| UPC | Weight(lbs) | Weight(oz) | SKU | Model # | Pricing |
| --- | --- | --- | --- | --- | --- |
| | 50 | | | | |