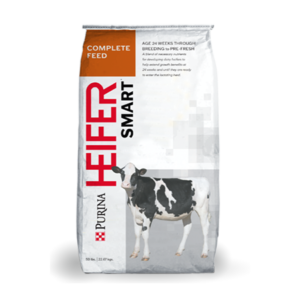 Heifersmart Complete helps extend the growth benefits achieved in superior calf feeding programs, keeping heifers growing through breeding to pre-fresh so they can more easily transition into the lactating herd.
NUTRIENT LEVEL
Crude Protein 18.00% or 22.00%(min)
Crude Fat 2.00% (min)
Crude Fiber 14.00% (max)
Acid Detergent Fiber (ADF) 18.00% (max)
Calcium 1.50% (min) 2.00% (max)
Phosphorus 0.10% (min)
Selenium 1.25 ppm (min)
Vitamin A 13,000 IU/LB (min)
Begin feeding HEIFERSMART Complete Feeds to heifers as they reach 24 weeks of age (475-500 lbs.) and continue use through breeding to pre-fresh. 2. Feed as part of a complete ration along with adequate amounts of good quality forage and fresh, clean water. 3. HEIFERSMART Complete Feed should be fed at a rate of 5 lbs./head/day to heifers weighing 800 lbs.
| UPC | Weight(lbs) | Weight(oz) | SKU | Model # | Pricing |
| --- | --- | --- | --- | --- | --- |
| | 50 | | | | |