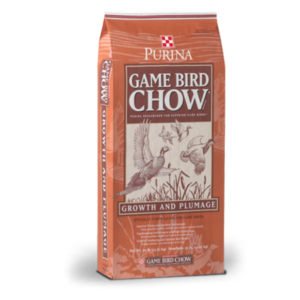 A holding ration for pheasants, quail, chukars, guinea fowl, ducks, geese and other exotic game birds. Purina Game Bird Maintenance Chow should be fed to game birds during the non-production season and mature game birds that are not being used for shooting preserves. This product is NOT intended for use where growth or production are major goals.
Crude Protein MIN 12.50 %
Phosphorus (P) MIN 0.50 %
Feed as sole ration to mature and fully feathered pheasants, quail, chukars, ducks, geese, turkeys and other exotic game birds.
Store in a dry, well-ventilated area free from rodents and insects. DO NOT use moldy or insect-infested feed.
Plenty of clean, fresh water should be available to the birds at all times.  A feeding program is only as effective at the management practices followed.
| UPC | Weight(lbs) | Weight(oz) | SKU | Model # | Pricing |
| --- | --- | --- | --- | --- | --- |
| 804273027937 | 50 | | | | |