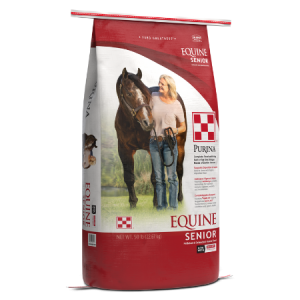 *With Outlast® Gastric Support Supplement*
Purina Equine Senior Horse Feed offers forage built in to completely or partially replace the hay or pasture. This is ideal for horse with dental problems or missing teeth that prevent them from eating. Additionally, this feed offers exclusive ActivAge probiotic. This is a proprietary blend of vegetable oils, flax seed and rice bran for weight maintenance, shine and bloom. Purina Equine Senior Horse Feed is highly digestible and formulated with a blend of fiber sources including beet pulp and top quality hay. As a result, it helps maintain the senior horse's body condition and support normal digestive function.
This equine feed now includes Outlast Gastric Support Supplement. Decreases in forage intake and thus, saliva production can mean increased risk for gastric discomfort. The proprietary mineral complex and unique honeycomb structure of Outlast® supplement enhances its capacity to support proper gastric pH.
#1 Veterinarian Recommended Senior Horse Feed
Four out of five equine veterinarians recommend Purina's Equine Senior® Horse Feed to their clients with senior horses, according to an independent study conducted in 2019
Exclusive ActivAge® Prebiotic Technology
Patented formula includes ActivAge® Prebiotic Technology scientifically studied in senior horses to support optimal function of the aging immune system and optimal mobility in aged horses. The controlled sugar and starch formula, along with ActivAge® Prebiotic Technology, supports an appropriate metabolic response to feeding
Purina® Amplify® High-Fat Nugget
Multiple sources of fatty acids including stabilized rice bran, flaxseed, and vegetable oils help support body condition, shine and bloom
Outlast® Gastric Support
Scientifically shown to support gastric health and comfort and proper pH
Supports Digestion & Health
Easy to chew with highly digestible fiber to meet the needs of horses that cannot chew or digest long-stemmed forage
Easy to Chew
Easy-soak™ Pellet Technology for horses with worn or missing teeth, makes a soft, easy-to-chew mash when soaked in water
100% Vitamins & Minerals
Support overall health of senior horses*
*When fed as directed, with free-choice or added salt, based on Nutrient Requirements of Horses. Sixth Revised Edition – 2007, published by the National Research Council
Highly Fermentable Fiber Sources
Including beet pulp and hay to help maintain body condition and support healthy digestive function
| | |
| --- | --- |
| Crude Protein (Min) | 14.00% |
| Lysine (Min) | 0.70% |
| Methionine (Min) | 0.18% |
| Threonine (Min) | 0.40% |
| Crude Fat (Min) | 5.50% |
| Crude Fiber (Max) | 18.00% |
| Starch (Max) | 12.00% |
| Sugars (Max) | 7.00% |
| Calcium (Ca) (Min) | 0.50% |
| Calcium (Ca) (Max) | 1.00% |
| Phosphorus (P) (Min) | 0.40% |
| Magnesium (Mg) | 0.33% |
| Potassium (K) (Min) | 1.60% |
| Sodium (Na) (Min) | 0.24% |
| Chloride (Cl) (Min) | 0.54% |
| Sulfur (S) (Min) | 0.23% |
| Cobalt (Co) (Min) | 0.60 ppm |
| Copper (Cu) (Min) | 55.00 ppm |
| Iodine (I) (Min) | 3.30 ppm |
| Iron (Fe) (Min) | 220.00 ppm |
| Manganese (Mn) (Min) | 220.00 ppm |
| Selenium (Se) (Min) | 0.30 ppm |
| Zinc (Zn) (Min) | 220.00 ppm |
| Vitamin A (Min) | 3,500 IU/lb |
| Vitamin D (Min) | 700 IU/lb |
| Vitamin E (Min) | 140 IU/lb |
| Vitamin C (Min) | 226.00 mg/lb |
| Thiamin (Min) | 11.34 mg/lb |
| Riboflavin (Min) | 9.07 mg/lb |
DescriptionStart with the amounts given for the weight and lifestyle of the horse. After observing the horse for a period of time, the amount fed may be increased or decreased by 10% to obtain the desired body condition and weight.
Weight of Horse in Pounds
Lifestyle
600
800
1,000
1,200
1,400
When Fed as a Complete Feed Without Forage
Maintenance
8.00
10.75
13.50
16.25
18.75
Light Work
9.00
11.75
14.75
17.75
20.75
Moderate Work
10.25
14.00
17.25
20.75
24.25
Lactating Broodmare
14.00
18.75
23.50
28.25
33.00
Breeding Stallion
9.75
13.00
16.25
19.50
22.50
When Fed With Forage
Hay or Equivalent Pasture (lbs./day)
6.00
8.00
10.00
12.00
14.00
Equine Senior® Horse Feed (lbs/day)
Maintenance
4.25
5.50
7.00
8.25
9.75
Light Work
5.00
6.50
8.25
10.00
11.50
Moderate Work
6.50
8.75
10.75
13.00
15.00
For horses sensitive to dietary carbohydrates, please consult with a veterinarian or nutritionist for a recommended diet.
Best Results
Good quality hay or pasture may be fed along with Equine Senior® horse feed.
Make sure your horse is free of dental problems and can effectively chew and utilize the forage.
Reduce the amount of Equine Senior® horse feed by 1.0 pound for every 1.5 to 2.0 pounds of hay consumed by your horse.
Do not feed less than 0.6 pounds per 100 pounds body weight of Equine Senior® horse feed per day when fed with hay to meet minimum daily requirements of protein, vitamins and minerals.
Feeding rates will vary with size, age, temperament, health status, climate and activity level. Feed at regular times – at least twice daily – with three daily feedings preferred. Let horses feed in a natural position from troughs with large bottoms, placed at normal head height or lower. Do not feed free-choice. Prevent the rapid eating by the horse of any feedstuff.
Reduce and/or delay feeding a horse which is hot, excited or showing pain, has fever or diarrhea. Consult your veterinarian if any problems arise.
Any feed changes should be made gradually over a period of 7 to 10 days. Changes in the rate of feeding should not exceed 1.0 lb per day for each horse.
Have plenty of clean, fresh water available at all times. Provide your horse with access to salt. Maintain an effective control program for internal parasites. Have the horse's teeth examined annually and consult your veterinarian on a regular basis.
Changing To
Make the feed change gradually over a period of 7 to 10 days.
Mix the new feed with the old, gradually increasing the amount of the new feed while decreasing an equal amount of the old.
Changes in the rate of feeding should not exceed 1 pound per day for each horse.
Caution
Store in a dry, well-ventilated area protected from rodents and insects. Do not feed moldy or insect-infested feed to animals as it may cause illness, performance loss or death.
| UPC | Weight(lbs) | Weight(oz) | SKU | Model # | Pricing |
| --- | --- | --- | --- | --- | --- |
| 804273082417 | 50 | | | | |