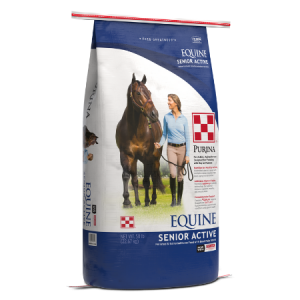 *With Outlast® Gastric Support Supplement*
When our equine companions reach their "senior years" it doesn't necessarily mean they are ready to slow down. But their nutritional needs change over time, and they need a diet that addresses the unique needs of an aging body. Equine Senior® Active horse feed is designed to be fed with hay or pasture and is formulated with highly digestible energy sources and nutrition your senior horse needs to enjoy an active life for years to come.
Exclusive ActivAge® Prebiotic
Scientifically studied in senior horses to support optimal function of the aging immune system, support optimal mobility in aged horses, and this controlled sugar and starch formula, along with ActivAge® Prebiotic Technology, supports an appropriate metabolic response to feeding
Purina® Amplify® High-Fat Nugget
Multiple sources of fatty acids including stabilized rice bran, flaxseed, and vegetable oils help support body condition, shine and bloom
Controlled Starch and Sugar Formula
Appropriate for aging horses with carbohydrate sensitivities
Concentrated Nutrition
For seniors who can still eat hay
Outlast® Gastric Support
Scientifically shown to support gastric health and comfort and proper pH
100% Vitamins & Minerals
Support overall health of senior horses*
*When fed as directed, with free-choice or added salt, based on Nutrient Requirements of Horses. Sixth Revised Edition – 2007, published by the National Research Council
Added Beet Pulp
And other highly digestible fiber sources help maintain body condition and support digestion
Nutrition for Healthy Activity
Multiple energy sources help keep aging horses active
CRUDE PROTEIN

14.00%

 min
LYSINE
0.90 % min
METHIONINE
0.25 % min
THREONINE
0.40 % min
CRUDE FAT
10.00 % min
CRUDE FIBER
18.00 % max
ACID DETERGENT FIBER (ADF)
21.00 % max
NEUTRAL DETERGENT FIBER (NDF)
36.00 % max
DIETARY STARCH
9.00 % max
SUGARS
7.00 % max
CALCIUM (Ca)
0.95 % min
CALCIUM (Ca)
1.45 % max
PHOSPHORUS
0.60 % min
SODIUM (Na)
0.55 % max
CHLORIDE (CI)
0.35 % min
MAGNESIUM (Mg)
0.25 % min
POTASSIUM
1.10 % min
MANGANESE (Mn) (Mg)
0.25% min
COBALT (Co)
0.55 PPM min
COPPER
80.00 PPM min
IODINE
3.00 PPM min
SELENIUM
0.60 PPM min
ZINC
280.00 PPM min
VITAMIN A
3000 IU/LB min
VITAMIN D3
800 IU/LB min
VITAMIN E
125 IU/LB min
THIAMIN
6.35 MG/LB min
FIBOFLAVIN
2.49 MG/LB min
Feeding directions with hay or pasture. Start with the amounts given for the weight and lifestyle of the horse. After observing the horse for a period of time, the amount fed may be increased or decreased by 10% to obtain the desired body condition and weight.
Weight of Horse in Pounds
Lifestyle
600
800
1,000
1,200
1,400
Minimum Hay or Equivalent Pasture*
7.00
9.50
12.00
14.50
17.00
Equine Senior® Active Horse Feed**
Maintenance — Minimum Activity
2.00
2.50
3.25
3.75
4.50
Maintenance — Average Activity
2.75
3.50
4.25
5.00
5.75
Maintenance — Elevated Activity
3.25
4.25
5.25
6.25
7.25
Light Work
4.00
5.25
6.50
7.75
9.00
Moderate Work
5.50
7.25
9.00
10.75
12.50
Early Gestation (first 250 days)
2.75
3.75
4.50
5.50
6.25
Late Gestation (last 90 days)
4.25
5.50
6.75
8.00
9.25
Breeding Stallion
4.75
6.25
7.75
9.50
10.75
* This is the recommended minimum amount of hay to be fed. If feeding more hay, reduce the feeding rate of Equine Senior Active horse feed by 1 pound for every additional 2 pounds of hay fed.
** Do not feed less than 0.3 pounds per 100 pounds of body weight per day.
| UPC | Weight(lbs) | Weight(oz) | SKU | Model # | Pricing |
| --- | --- | --- | --- | --- | --- |
| 804273082424 | 50 | | | | |