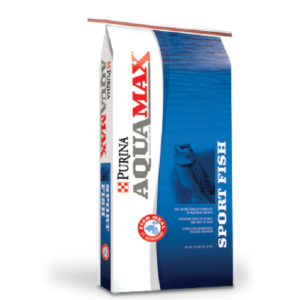 100% nutritionally complete and was developed by professional nutritionists and fish experts. Formulated as an easily-digestible, high-energy, nutrient-dense diet with excellent conversion rates, Sport Fish 600 has high feed efficiency and rate of gain and is designed to stimulate aggressive feeding behavior. AquaMax Sport Fish 600 is a floating product in a in a 9/32″ extruded pellet.
| | |
| --- | --- |
| Crude Protein |  41.00% MIN |
| Crude Fat |  12.00% MIN |
| Crude Fiber |  4.00% MAX |
| Calcium (Ca) |  2.00% MIN |
| Calcium (Ca) |  2.50% MAX |
| Phosphorus (P) |  1.10% MIN |
| Sodium (Na) |  0.60% MAX |
High-protein, nutrient-dense diets are required to support healthy growth in this type of species. Fish include:  feed-trained largemouth bass, hybrid striped bass, bluegill sunfish, and rainbow trout.  See feeding strategies for feeding directions on specific species.
Store in a dry, well-ventilated area protected from rodents and insects. Do not feed moldy or insect-infested feed to animals as it may cause illness, performance loss or death.
Consumption can vary depending upon water temperature, season of the year, nutritional needs of the fish, availability of other foods and fish familiarity with particle feeds. Consult the feed tag on this package for specific feeding directions.
| UPC | Weight(lbs) | Weight(oz) | SKU | Model # | Pricing |
| --- | --- | --- | --- | --- | --- |
| 719377110037 | 50 | | | | |