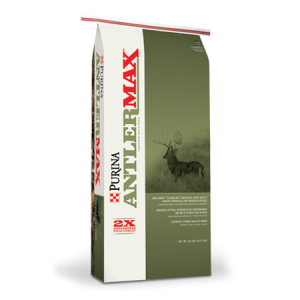 Purina AntlerMax Rut & Conditioning Deer 16 Climate Guard Feed is a researched, 16% protein, high-energy ration with the addition of new Climate Guard supplement. Specifically formulated for what free range deer require to support overall health, reproductive performance and growth.
AntlerMax® pellets
Improves antler size and mass and improves body condition
Climate GuardTM supplement
Comprised of high quality ingredients that support rumen function, gut health, and optimal nutrient utilization
Supports digestibility of starch in the small intestine. Helps sustain deer during stressful events like the breeding season. Supports weight gain and body condition. Helps bucks regain lost weight after the rut, supports pregnant does, and the growth of fawns.
High fat content
3.0% fat from several high quality vegetable oil sources that help deliver a high percent of fat directly to the growing tissues. Helps deer regain body condition quickly.
High palatability
Strong proprietary flavor to attract deer and elk
Optimum levels of vitamins and minerals
Helps promote growth and reproduction.
Optimum levels of calcium, phosphorus, magnesium, trace minerals (copper, manganese, selenium, zinc)
and Vitamin E. Contains proprietary AntlerMax® Mineral Technology including organic trace minerals for replenishing depleted bone material stores used during antler mineralization and supports reproduction.
Supplements poor or spares forage
So deer can maintain vigor during periods of environmental nutritional stress
| | |
| --- | --- |
| Crude Protein | 16.00% min |
| Crude Fat | 3.00 % min |
| Crude Fiber | 11.00 % max |
| Calcium (Ca) | 1.00 % min |
| Calcium (Ca) | 1.50 % max |
| Phosphorus (P) | 0.75% min |
| Salt (NaCl) | 0.20 % min |
| Salt (NaCl) | 0.70 % max |
| Potassium | 1.00% min |
| Vitamin A | 11,000 IU/lb min |
Feed to Deer, Elk and Exotic Deer as a supplement to native habitat or pasture. For best results feed free choice in a covered trough or self-feeder. If forage becomes limiting, supply good quality legume hay.
This feed contains added Copper and should not be fed to sheep. Store in a dry, well-ventilated area protected from rodents and insects. Do not feed moldy or insect-infested feed to animals as it may cause illness, performance loss or death.
USE ONLY AS DIRECTED
| UPC | Weight(lbs) | Weight(oz) | SKU | Model # | Pricing |
| --- | --- | --- | --- | --- | --- |
| 883576012055 | 50 | | | | |