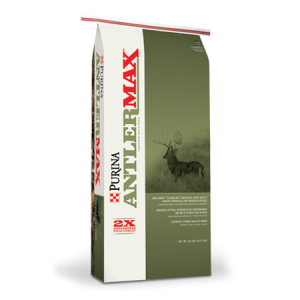 Purina AntlerMax Rut & Conditioning Deer 16 Climate Guard Feed is a researched, 16% protein, high-energy ration with the addition of new Climate Guard supplement. Specifically formulated for what free range deer require to support overall health, reproductive performance and growth.
Crude Protein (Min) …………………………..16.00%
Crude Fat (Min)…………………………………..3.00%
Crude Fiber (Max) ……………………………..11.00%
Calcium (Ca) (Min)………………………………1.00%
Calcium (Ca) (Max) ……………………………..1.50%
Phosphorus (P) (Min)…………………………..0.75%
Salt (NaCl) (Min)…………………………………0.20%
Salt (NaCl) (Max) ………………………………..0.70%
Feed to Deer, Elk and Exotic Deer as a supplement to native habitat or pasture. For best results feed free choice in a covered trough or self-feeder. If forage becomes limiting, supply good quality legume hay.
This feed contains added Copper and should not be fed to sheep. Store in a dry, well-ventilated area protected from rodents and insects. Do not feed moldy or insect-infested feed to animals as it may cause illness, performance loss or death.
USE ONLY AS DIRECTED
| UPC | Weight(lbs) | Weight(oz) | SKU | Model # | Pricing |
| --- | --- | --- | --- | --- | --- |
| 883576012055 | 50 | | | | |