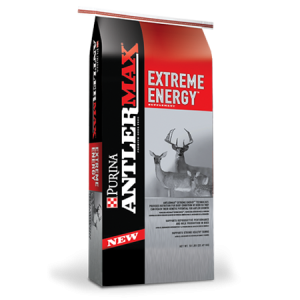 Purina AntlerMax Extreme Energy Supplement supports body condition of deer so they can reach their optimal genetic potential for antler growth. AntlerMax Extreme Energy is a 30% fat supplement that delivers a great percentage of fat and energy directly to growing tissue to help maintain an ideal body condition. This unique combination of AntlerMax By-Pass Protein Technology, Mineral Technology and Nutritional Enhancements culminates in a premium supplement designed specifically for deer.
Diamond V® Yeast
Helps optimize feed intake and digestibility – Diamond V has conducted deer research that demonstrates under some conditions feed intake and forage digestibility were optimized
Enhanced trace mineral levels and ratios
Helps support antler production at an early age digestive system
High fat content
30% fat from several high-quality vegetable sources to deliver a greater percentage of fat and energy directly to growing tissues and help support body condition
Highly digestible
Over 95% Total Digestible Nutrients (TDN) to supply additional calories to deer without the negative effects of a high starch feed like corn
Increased levels of vitamin D
Calcium and phosphorus utilization helping support antler growth, density and strength
Octacosonal
An excellent source of tocopherols and other antioxidants which aide in efficient oxygen utilization
Tasco®
A potent prebiotic that helps support a healthy digestive system
Vitamin A15000 IU/LB min
| | |
| --- | --- |
| Crude Protein | 14.00% min |
| Crude Fat | 30.00% min |
| Crude Fiber | 7.00% max |
| Calcium (Ca) | 2.00% min |
| Calcium (Ca) | 2.50% max |
| Phosphorus (P) | 1.00% min |
| Potassium (P) | 1.00% min |
| Salt (NaCl) | 0.50% min |
| Salt (NaCl) | 1.00% max |
| Sodium (Na) | 0.60% min |
Feed AntlerMax Extreme Energy Supplement as a top dress to current feed. BUCKS: Feed year-round about 1/4 to 1/2 lbs per day to support body condition during the rut in fall and winter and during antler growth in the spring and summer. DOES: Feed year-round about 1/4 to 1/2 lbs per day in fall and winter to condition does prior to and during the breeding season and during the spring and summer lactation period. FAWNS: Feed about 1/4 lbs per day after weaning to support body condition.
This feed contains added copper and should not be fed to sheep.Follow label directions: Feeding added selenium at levels in excess of 0.3 ppm in total diet is prohibited. Store in a dry, well-ventilated area protected from rodents and insects. Do not feed moldy or insect-infested feed to animals as it may cause illness, performance loss or death. This product was made in a feed manufacturing facility that does not handle or store products containing animal proteins prohibited in ruminant feed.
Since AntlerMax Extreme Energy Supplement is not a complete feed always feed with other feed. In addition, always make sure that adequate legume hay or good quality pasture is available.
Provide plenty of fresh, clean water.
Consult your veterinarian immediately if any problems arise and for health and parasite control recommendations.
Regulations for the feeding of big game can vary from state to state. Please check with your local game and fish department for the proper usage of this product.
| UPC | Weight(lbs) | Weight(oz) | SKU | Model # | Pricing |
| --- | --- | --- | --- | --- | --- |
| 804273038063 | 50 | | | | |