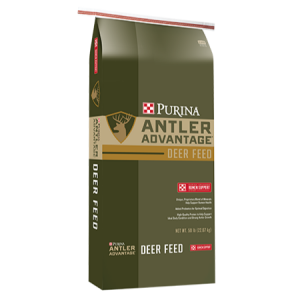 Purina Antler Advantage Wildlife 16 ARS deer feed is a palatable 16%-protein, pelleted ration with the Purina Advanced Rumen Support System designed to supplement the diets of multiple species of free-ranging wild herbivores in native habitat.
Purina® Advanced Rumen Support System
Seaweed-derived calcium supports rumen health by helping manage rumen pH
Prebiotic aids beneficial rumen microbial populations for optimal digestion
Balanced Nutrition
Higher in protein than most grasses and browse species in native habitat and contains a vitamin and mineral pack
Highly Palatable
Unique blend of nutritious ingredients readily accepted by wild herbivores
Convenient
One feed that can be fed to multiple species including wild sheep in a feeder or the 3/8″ cube can be fed on the ground
Effective
Supplies essential nutrients to improve diets and support productivity of wild herbivores when nutrients available from the native habitat may be limiting due to climatic conditions, overstocking and other stressful situations
Backed by Research
Scientific studies are performed at the Deer Research Unit at our 1,263-acre Purina Animal Nutrition Center
Formulated with Proprietary Purina® Constant Nutrition® Formulation Technology
Consistent manufacturing quality from batch to batch
Purina® FeedGuard® Quality Assurance Manufacturing
Includes near Infra-Red Reflectance (NIR) technology to measure and compensate for the actual nutrient levels in ingredients to help ensure consistent levels of nutrients in the feed
| | |
| --- | --- |
| CRUDE PROTEIN | 16.00% min |
| CRUDE FAT | 2.50% min |
| CRUDE FIBER | 16.00% max |
| CALCIUM (CA) | 1.20% min |
| CALCIUM (CA) | 1.70% max |
| PHOSPHORUS (P) | 0.90% min |
| SALT (NaCl) | 0.45% min |
| SALT (NaCl) | 0.95% max |
| POTASSIUM (K) | 0.50% min |
| VITAMIN A | 8,000 IU/KG min |
Feed free-choice to deer, antelope, exotic deer and wild sheep as a supplement to native habitat and or pasture. Consumption will vary according to age, sex, climate and physiological state but should be in the range of one to three pounds per 100 pounds of body weight. For best results feed free choice in a covered trough or self-feeder. If forage becomes limiting, supply good quality legume hay.
Caution
Store in a dry, well-ventilated area protected from rodents and insects. Do not feed moldy or insect-infested feed to animals as it may cause illness, performance loss or death. USE ONLY AS DIRECTED.
Important
Regulations for the feeding of game animals vary from state to state. Check with your State Game and Fish Department or the Department of Natural Resources for guidelines on the proper use of this product.
Management Practices
A feeding program is only as effective as the management practices. Actual results can vary depending upon feed intake, environmental conditions, and the quality of the management practices.
This feed is a supplement, not a complete feed. Animals in confinement may be fed this product, but only when fed with free-choice access to adequate hay or roughage. Animals in confinement should not be fed this product as their sole diet without access to hay or roughage.
Deer, antelope and wild goats: since consumption may vary among animals, supplying additional Purina® AntlerMax® Premium Deer Mineral is a good practice.
Wild sheep: provide salt free-choice.
Provide a source of fresh, clean water at all times.
When changing rations, the change should be mad gradually increasing the amount of new feed and decreasing the amount of the old feed over a period of 7-10 days.
Consult your veterinarian for recommended herd health and parasite control programs.
| UPC | Weight(lbs) | Weight(oz) | SKU | Model # | Pricing |
| --- | --- | --- | --- | --- | --- |
| 855018000760 | 50 | | | | |