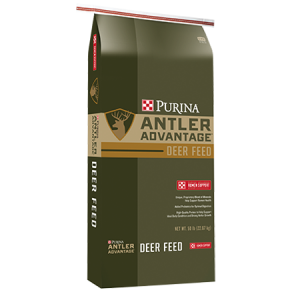 Purina Antler Advantage Mule Deer 22 ARS deer feed is a nutrition-packed, 22%-protein, pelleted ration with the Purina Advanced Rumen Support System designed to support the nutrition of mule deer in their native habitat. The high protein content aids top performance to support antler development in bucks and reproductive success in does.
Purina® Advanced Rumen Support System
Seaweed-derived calcium supports rumen health by helping manage rumen pH
Prebiotic aids beneficial rumen microbial populations for optimal digestion
Power-Packed Nutritional Package of Protein and Energy with Ideal Amounts and Ratios of Vitamins and Minerals
Helps support strong antler growth, density and strength
Nutritionally Balanced
Deer get the nutrition they need all in one feed for strong overall health
High Fat Content
4.0% fat from several high-quality sources helps deer re-gain body condition quickly
Strong Molasses and Apple Flavors
For optimal feed intake and consistent taste to attract deer to the feed so they receive the benefit of a balanced diet
Backed by Research
Scientific studies are performed at the Deer Research Unit at our 1,263-acre Purina Animal Nutrition Center
Formulated with Proprietary Purina® Constant Nutrition® Formulation Technology
Consistent manufacturing quality from batch to batch
Purina® FeedGuard® Quality Assurance Manufacturing
Includes near Infra-Red Reflectance (NIR) technology to measure and compensate for the actual nutrient levels in ingredients to help ensure consistent levels of nutrients in the feed
| | |
| --- | --- |
| Crude Protein | 22.00 % min |
| Crude Fat | 4.00 % min |
| Crude Fiber | 14.50 % max |
| Calcium (Ca) | 1.40 % min |
| Calcium (Ca) | 1.90 % max |
| Phosphorus (P) | 0.75 % min |
| Salt (NaCl) | 0.40 % min |
| Salt (NaCl) | 0.90 % max |
| Potassium (K) | 1.00 % min |
| Vitamin A | 10,000 IU/lb min |
This feed was developed to provide year-round balanced nutrition to mule deer in native habitat, especially during antler growing season.
1. Feed free-choice to deer. Consumption will vary according to age, sex, climate, and physiological state but should be in the range of one to three pounds per 100 pounds of body weight.
2. Feed to deer as a supplement to native habitat or pasture. If forage becomes limiting, supply good quality legume hay.
3. For best results, feed free-choice in a covered trough or self feeder.
4. To support deer post-rut and during harsh climatic conditions, feed Purina Antler.
| UPC | Weight(lbs) | Weight(oz) | SKU | Model # | Pricing |
| --- | --- | --- | --- | --- | --- |
| | 50 | | | 3005413-206 | |