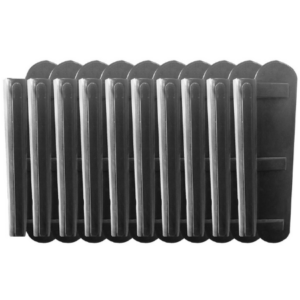 Blinders are designed to fit all Priefert Squeeze Chute Models, and easily snap on and off to provide animal access during cattle handling. Blinders help block distractions outside the chute, guiding cattle to the opening of the headgate. This helps increase the ease and efficiency of cattle working and leads to lower stress levels for livestock. Blinders are flexible and animal safe with no sharp edges or ridges to harm the cattle or chute operator.
Blinders are easily portable for use on different chutes or at different working facilities.
"Rubber like" cast polyurethane material is is UV stable, making it resistant to cracking.