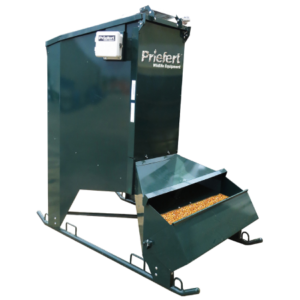 The Ultimate Wildlife Management tool for feeding protein, corn or textured feed. This feeder holds 1,000 pounds of protein or 1,250 pounds of corn. The programmable timer allows you set your feeder to open and close up to 3 different times a day, making it easy to close the feeder at night to prevent the feeding of nocturnal species. The feed bin can easily be filled from the ground.
The programmable timer allows you to set your feeder to open and close for up to 5 different predetermined feeding times each day.
Preset-Mode programming allows fast set-up. You only need to set clock and GPS coordinates to start using the feeder.
A rain sensor signals the trough to close when it starts to rain. Once the rain has passed, the feeder returns to its regular feeding schedule, meaning that if the rain stops during a time that you want the feeder to be open, the sensor will signal the trough to re-open after the rain.
With the rain sensor, wet feed is no longer a problem, leading to savings in expensive wildlife feed costs.
An adjustable solar panel provides power for the battery.
All electrical parts such as wires, battery, and actuator are shielded and protected from the outside elements keeping them safe from varmints.
The trough is 18" off the ground with a 10" x 44" opening, allowing wildlife to feed in a more natural eating position that helps limit food waste.
Spring tensioning keeps the trough lid secure when in the closed position.
The feed bin can be easily refilled from the ground and the capacity allows for 1000 lbs of feed.
The bin container slopes down allowing gravity to feed the trough. An adjustable gate allows you to designate the feed level based on the density of the product being fed.
Skids on the bottom of the feeder allow for easy movement or relocation of the feeder when empty.
Fork hoops allows for easy loading on high flat beds or trailer decks.
The Automated Wildlife Feeder is constructed from 16 gauge galvanized steel with an Architectural Grade Powder Coat Finish, providing two layers of protection to help the feeder resist rust, scratches, and fading.
| UPC | Weight(lbs) | Weight(oz) | SKU | Model # | Pricing |
| --- | --- | --- | --- | --- | --- |
| 726237144699 | | 0 | | | |