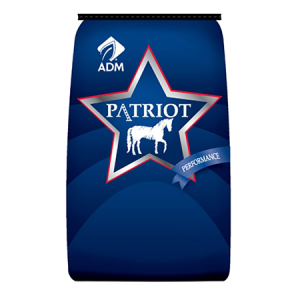 Patriot Performance is a high quality feed specifically designed for the pleasure or low-intensity performance horse. Balanced protein and amino acids, with quality carbohydrates and fats make this a well rounded multi purpose ration. Chelated minerals, high vitamin levels, and B-complex vitamins, promote a strong immune system and effective muscle repair. Added yeast promotes great digestion, making this a great option for any trainer or owner looking for a feed that is going to provide blended energy and great overall nutrition for their horse.
Available in 50-lb bag. 
Crude Protein (minimum)12.0%
Crude Fat (minimum)4.5%
Crude Fibre (maximum)10.0%
Calcium (actual)0.7%
Phosphorus (actual)0.59%
Magnesium (actual)0.2%
Sodium (actual)0.36%
Copper (actual)30 mg/kg
Manganese (actual)80 mg/kg
Zinc (actual)105 mg/kg
Vitamin A (minimum)11,000 IU/kg
Vitamin D (minimum)1,100 IU/kg
Vitamin E (minimum)250 IU/kg
Biotin (added)1.1 mg/kg
Riboflavin (minimum)35 mg/kg
Thiamine (minimum)25 mg/kg
Lysine (actual)0.6%
Methionine (actual)0.18%
Feed to the medium performance horse at a rate of ½ to 1 kg per 100 kg of body weight. Horses in heavier work, or growth stages, may require more feed, increasing slightly to 1½ kg per 100 kg body weight. In all cases, feed along with good quality hay and clean, fresh water.
* Feeding rates may vary depending on forage quality and horse's activity level.
| UPC | Weight(lbs) | Weight(oz) | SKU | Model # | Pricing |
| --- | --- | --- | --- | --- | --- |
| 43396167186 | 50 | | | | |