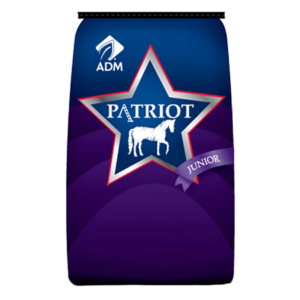 Patriot products are Fortified Feed products that provide a variety of protein, energy and fiber ratios to optimize your horse's performance and health. Patriot Complete Feeds are formulated for use when forage supplies are limited or of poor quality and have higher feeding rates due to the inclusion of forage in the formulas.
Lower starch option (<20% non-structural carbohydrates)
For foals and growing horses up to 18 months of age; can also be used for broodmares
16% protein, 6% fat and no more than 14% crude fiber
Up to 6 lb daily feeding rate
Available in 50-lb bag. 
Crude Protein, min. …………………………….. 16.0%
Lysine, min. ………………………………………….. 0.9%
Methionine, min. …………………………………. 0.35%
Threonine, min. …………………………………… 0.6%
Crude Fat, min. …………………………………… 6.0%
Crude Fiber, max. ……………………………….. 14.0%
Acid Detergent Fiber, max. ………………… 21.0%
Neutral Detergent Fiber, max. …………… 40.0%
Starch, max. …………………………………………. 16.5%
Sugar, max.* ………………………………………… 6.5%
Calcium (Ca), min./max. ……………………… 0.7%–1.2%
Phosphorus (P), min. …………………………… 0.5%
Copper (Cu), min. ………………………………. 50 ppm
Selenium (Se), min. ……………………………… 0.6 ppm
Zinc (Zn), min. ……………………………………. 180 ppm
Vitamin A, min. ……………………………………. 5,000 IU/lb
Vitamin D3, min. ………………………………….. 500 IU/lb
Vitamin E, min. …………………………………….. 150 IU/lb
Biotin, min. ………………………………………….. 1.6 mg/lb
Lactobacillus acidophilus, min. ….. 10,200,000 CFU/lb
Lactobacillus casei, min. ………….. 10,200,000 CFU/lb
Bifidobacterium thermophilum, min. .. 10,200,000 CFU/lb
Enterococcus faecium, min. …… 10,200,000 CFU/lb
The fiber sources in Patriot Mare & Foal are highly digestible in horses and contribute significantly to the digestible energy content of this feed. Feed foals and weanlings 0.5%–1.0% of body weight per day of Patriot Mare & Foal in at least two feedings along with good-quality hay. Feed 5–6 lb of Patriot Mare & Foal to an average-sized, mature broodmare (900–1200 lb) along with at least 20 lb of good-quality forage divided into at least two meals each day. Adjust feeding rate for each individual horse to maintain the desired body condition. If your horse needs less than 5 lb of Patriot Mare & Foal to maintain condition, provide a GROSTRONG Vitamin and Mineral product according to label directions. If more energy is required when feeding 6 lb of Patriot Mare & Foal add MOORGLO® or HEALTHY GLO® Premium Hi-Fat Supplements. GROSTRONG Mineral products should also be offered to broodmares and foals on a free-choice basis. Provide clean, palatable water at all times, except directly following heavy exercise. See bag for additional details. For more information, call 1-800-680-8254. WARNING: This feed contains copper. Do not feed to sheep or other copper sensitive species. Follow label directions. Feeding added selenium at levels in excess of 0.3 ppm in the total diet is prohibited. Additional Information Following are suggested feeding rates for foals and growing horses up to 18 months of age. A
| UPC | Weight(lbs) | Weight(oz) | SKU | Model # | Pricing |
| --- | --- | --- | --- | --- | --- |
| 788399800974 | 50 | | | | |