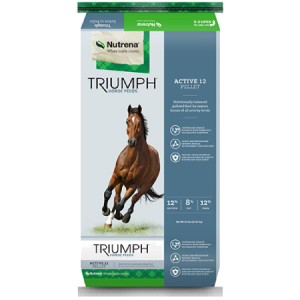 Nutrena Triumph Active 12 Pellet Horse Feed is nutritionally balanced pelleted feed for mature horses of all activity levels.
Triumph Horse Feeds are specially formulated to give your horse the nutrition it requires under a broad range of conditions. Triumph 12% Pelleted Horse Feed is regionally available, and is designed to be fed to mares, breeding, maintenance and performance horses.
Triumph horse feeds are available regionally. The below guaranteed analysis represents a typical product, however there may be regional variations. Please visit your local Nutrena retailer for product specifics in your area.
| Nutrient | Level |
| --- | --- |
| Crude Protein, minimum | 12.0% |
| Lysine, minimum | 0.60% |
| Methionine, minimum | 0.20% |
| Crude Fat, minimum | 8.0% |
| Crude Fiber, maximum | 12.0% |
| ADF, maximum | 15.0% |
| NDF, maximum | 35.0% |
| Dietary Starch*, maximum | 15.0% |
| Sugar*, maximum | 3.0% |
| Calcium, minimum | 0.70% |
| Calcium, maximum | 1.20% |
| Phosphorus, minimum | 0.50% |
| Copper, minimum | 40 ppm |
| Zinc, minimum | 160 ppm |
| Selenium, minimum | 0.60 ppm |
| Vitamin A, minimum | 3,000 IU/lb |
| Vitamin D, minimum | 300 IU/lb |
| Vitamin E, minimum | 50 IU/lb |
| Biotin, minimum | 0.30 mg/lb |
*NSC (Non-structural Carbohydrates) = Dietary Starch + Sugar
| Life Stage | Activity Level | Lbs Feed per 100 lbs bodyweight |
| --- | --- | --- |
| Maintenance Horses | Maintenance | 0.25 – 0.5 |
| Performance Horses | Light exercise | 0.5 – 0.75 |
| Performance Horses | Moderate exercise | 0.75 – 1.0 |
| Performance Horses | Intense exercise | 1.0 – 1.5 |
| Broodmares & Foals | First two trimesters of gestation | 0.25 – 0.5 |
| Broodmares & Foals | Last trimester of gestation | 0.5 – 0.75 |
| Broodmares & Foals | Early lactation (foaling to 3 months) | 1.0 – 1.5 |
| Broodmares & Foals | Late lactation (3 months to weaning) | 0.75 – 1.0 |
| UPC | Weight(lbs) | Weight(oz) | SKU | Model # | Pricing |
| --- | --- | --- | --- | --- | --- |
| 746314000618 | 50 | | | | |
| 722304485641 | 50 | | | | |