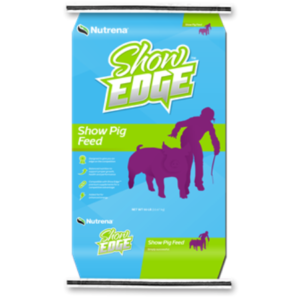 A simple nutritional program designed to give you the edge in the show ring with your pig!
18% protein, 5% fat, 6% fiber
Pelleted form
Designed to give you an edge on the competition
Balanced nutrition to support proper growth, health and performance
Show Edge premium supplements for a competitive advantage
Added fat for enhanced energy
Crude Protein, minimum 18.0%
Lysine 1.0%
Crude Fat, minimum 5.0%
Crude Fiber, maximum 6.0%
Calcium, minimum 0.6%
Calcium, maximum 0.9%
Phosphorus, minimum 0.55%
Salt, minimum 0.20%
Salt, maximum 0.60%
Copper, minimum 250 ppm
Zinc, minimum 145 ppm
Selenium, minimum 0.3 ppm
Feed as a sole ration.
Start on feed when pig is at 75 lbs bodyweight. From 75-175 lbs bodyweight, feed aobut 4-6 lbs per head, per day.
Feed by weight – not by volume.
Weigh the feed in the container you'll be using and be sure to subtract the weight of the container.
| UPC | Weight(lbs) | Weight(oz) | SKU | Model # | Pricing |
| --- | --- | --- | --- | --- | --- |
| 722304403447 | 50 | | | | |