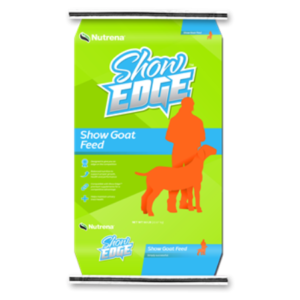 A simple nutritional program designed to give you the edge in the show ring with your goat!
16% protein, 3% fat, 14% fiber
Pelleted form
Designed to give you an edge on the competition
Balanced nutrition to support proper growth, health and performance
Compatible with Show Edge premium supplements for a competitive advantage
Helps maintain urinary tract health
Nutrient Level
Crude Protein, minimum 16.0%
NPN 1.6%
Crude Fat, minimum 3.0%
Crude Fiber, maximum 14.0%
Acid Detergent Fiber (ADF), maximum 20.0%
Calcium, minimum 0.80%
Calcium, maximum 1.0%
Phosphorus, minimum 0.35%
Salt, minimum 1.80%
Salt, maximum 2.30%
Sodium, minimum 0.20%
Sodium, maximum 0.70%
Copper, minimum 20 ppm
Copper, maximum 25 ppm
Selenium, minimum 1.3 ppm
Vitamin A, minimum 11,000 IU/lb
Weigh your kid (goat) in pounds and multiply that number by 0.01 (1.0%) to get the amount of daily feed you should start your kid on.
Hay should be available free choice to start and then reduced as kids come on feed.
Over the next two to three weeks, gradually increase the feed until you are feeding the equivalent of 3-5.5% of your goat's bodyweight per day.
Feed by weight – not by volume.
Weigh the feed in the container you'll be using and be sure to subtract the weight of the container.
Provide your goat with salt free choice.
| UPC | Weight(lbs) | Weight(oz) | SKU | Model # | Pricing |
| --- | --- | --- | --- | --- | --- |
| 722304403423 | 50 | | | | |