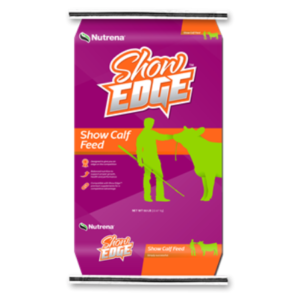 A simple nutritional program designed to give you the edge in the show ring with your calf!
12% protein, 3% fat, 18% fiber
Sweet feed form
Designed to give you an edge on the competition
Compatible with Show Edge premium supplements for a competitive advantage
Balanced nutrition to support proper growth, health and performance
Crude Protein, minimum 12.0%
Crude Fat, minimum 3.0%
Crude Fiber, maximum 18.0%
Calcium, minimum 0.65%
Calcium, maximum 0.9%
Phosphorus, minimum 0.45%
Salt, minimum 0.30%
Salt, maximum 0.75%
Potassium, minimum 0.60 ppm
Vitamin A, minimum 6,000 IU/lb
At the start of the feeding period, fill calves on hay and gradually introduce Show Edge Show Calf Feed over time, starting with 2-3 lbs on the first day. Divide into two equal feedings.
Increase feed by 1-1.5 lbs. per day, with corresponding decreases in hay until full feed intake is achieved.
Once calves are on full feed, feed hay at desired rate. Hand feed Show Edge Show Calf Feed a minimum of twice daily.
| UPC | Weight(lbs) | Weight(oz) | SKU | Model # | Pricing |
| --- | --- | --- | --- | --- | --- |
| 722304403430 | 50 | | | | |