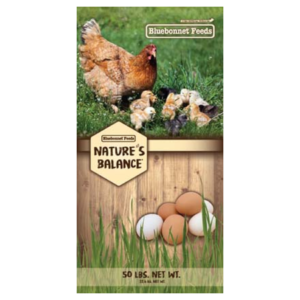 Convenient "crumbled granules" are designed for birds that prefer smaller size food particles, contains excellent quality natural protein with calcium and specific minerals that help promote quality eggshell formation, formulated to maximize high quality egg production with bright yellow yolks, and all-natural vegetable protein. No animal protein is used, which helps ensure high quality, farm fresh wholesome eggs. Completely fortified with vitamins and minerals, added prebiotic and probiotic digestive support is included which helps improve the immune system and keeps birds laying more eggs for longer periods of time.
Crude Protein Min 16.00% Lysine Min 0.70% Methionine Min 0.30% Crude Fat Min 3.00% Crude Fiber Max 6.90% Calcium Min 4.00% Calcium Max 5.00% Phosphorus Min 0.65% Salt Min 0.25% Salt Max 0.75% Magnesium Min 0.20% Zinc Min 100 ppm Manganese Min 100 ppm Copper Min 25 ppm Iodine Min 3 ppm Selenium Min 0.30 ppm Vitamin A Min 4,000 IU/lb Vitamin D-3 Min 1,000 ICU/lb Vitamin E Min 23 IU/lb Menadione Min 1.50 mg/lb D-Pantothenic Acid Min 7.10 mg/lb Thiamine Min 1.50 mg/lb Niacin Min 30.00 mg/lb Vitamin B6 Min 3.00 mg/lb Choline Min 270 mg/lb Riboflavin Min 3.60 mg/lb Biotin Min 0.10 mg/lb Folic Acid Min 0.90 mg/lb
Feed according to directions on bag.
| UPC | Weight(lbs) | Weight(oz) | SKU | Model # | Pricing |
| --- | --- | --- | --- | --- | --- |
| | 25 | | | | |
| | 50 | | | | |