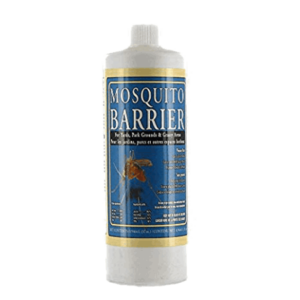 Mosquito Barrier is an aromatic liquid garlic mosquito repellent used for outdoor mosquito control. Once applied, the garlic odor dissipates within minutes but continues to repel mosquitoes, ticks, gnats and fleas. It is designed to be broadcast sprayed and can be used as a natural mosquito killer if applied directly to breeding sites and adult mosquitoes.
Mode of Action: Many insects, including mosquitoes, do not like the sulfur content in garlic extracts. The scent provides extended repellent action while the oil base suffocates and kills mosquitoes when contacted. This dual action allows Mosquito Barrier to serve as a naturally sourced alternative to chemical-based mosquito pesticides.
Shelf Life: 2 years
Active Ingredients/Guaranteed Analysis:
99.3%….Garlic Juice
0.5%….Citric Acid
0.2%….Potassium Sorbate
Saturate all plants in the treatment area including grass, vegetables and trees. If puddles or standing water are present, apply mosquito barrier directly to them to kill developing mosquito larvae. Mosquito Barrier can be applied as a barrier treatment or for complete control in the area. Avoid applying when rain is forecasted within 48 hours.
Environment: Outdoors, Crops, Orchards & Vineyards, Nursery, Greenhouse, Grow Room, Hydroponics, Aquaponics, Pond & Environment, Interiorscapes, Container Plants, Houseplants
Storage: Store in original container
| UPC | Weight(lbs) | Weight(oz) | SKU | Model # | Pricing |
| --- | --- | --- | --- | --- | --- |
| 698035004133 | 3.23 | | | | |
| 752601128002 | 10 | | | | |