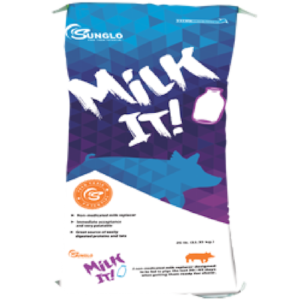 Immediate acceptance and very palatable. Milk It! replacer is available in a 25 lb bag for easy and economical on-farm use. Great source of easily digested proteins and fats.20% Protein and 20% Fat. More versatile in feeding program.
Allows for immediate acceptance and offers an extremely palatable option to help with overall intake.
Offers easy digested proteins and fats to help build shape and added rib cover in harsher made hogs.
Highly palatable, Non-medicated milk replacer for show pigs
Immediate acceptance can help support overall caloric intake
Easily digestible proteins and fats help support bloom, muscle shape, and rib cover
| | |
| --- | --- |
| Protein | 20.00% |
| Fat | 20.00% |
| Fiber | 0.10% |
| Lysine | 1.80% |
| Form | Meal |
Always provide access to fresh, clean water.
Check weight gains at set time intervals and adjust daily feeding rate as needed until target weight is reached.
Always transition slowly from one ration to another to help avoid.
How to Feed Sunglo® Milk It!™:
DRY: Feed 1/4 to 1/2 lb per pig for the 30–45 days prior to show.
LIQUID: Mix milk replacer powder at the rate of 1/2 lb (8 oz dry powder) per 2 quarts water.
Milk It!™ replacer is not a recommended milk replacer for small, pre-weaned pigs.
| UPC | Weight(lbs) | Weight(oz) | SKU | Model # | Pricing |
| --- | --- | --- | --- | --- | --- |
| 716535001510 | 25 | | | | |
| 722304476779 | 50 | | | | |