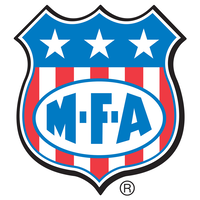 MFA Show Lamb BT is a complete, pelleted feed for all classes of sheep. This feed is medicated for the prevention of coccidiosis. This is a condition caused by Eimeria ovina, Eimeria crandalis, Eimeria ovinoidalis (Eimeria ninakohlyakimovae), Eimeria parva and Eimeria intricata in sheep maintained in confinement.
Active Drug Ingredient: Lasalocid………….27 g/ton
Guarenteed Analysis
Crude Protein, Min: 18.0%
Crude Fat, Min: 4.0%
Crude Fiber, Min: 12.0%
Calcium (Ca), Min: 1.0%
Calcium (Ca), Max: 1.5%
Phosphorous (P), Min: 0.50%
Salt (NaCl), Min: 0.2%
Salt (NaCl), Max: 0.7%
Selenium (Se), Min: 0.2 PPM
Vitamin A, Min: 16,000 IU/LB
Vitamin E, Min: 20 IU/LB
Feeding Instructions:
Feed continuously at the rate of 2 to 5 pounds per head per day to provide 27 mg to 68 mg of lasalocid per head per day, depending on body weight.
WARNING:
A withdrawal period has not been established for this product in pre-ruminating cattle. Do not use in calves to be processed for veal.
CAUTION:
The safety of Lasalocid for use in unapproved species has not been established.
LIMITATIONS:
Feeding undiluted or mixing errors may result in an excess Lasalocid concentration which could be fatal to cattle and sheep. Do not allow horses or other equines access to Type A articles or Type B feeds containing Lasalocid as ingestion may be fatal.
| UPC | Weight(lbs) | Weight(oz) | SKU | Model # | Pricing |
| --- | --- | --- | --- | --- | --- |
| | | | | | |